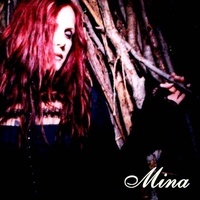 Mina is inviting you to take a trip to the dark side just for a bit.   This journey will take you on a haunting trip through the human mind.   You will hear raw emotions & feelings being poured out by Mina, from a dark-clouded standpoint.   Mina's vocals & performance on this record will pierce right through you.   Whether you dig her style or not, one thing is for certain; you will listen and you will be inquisitive of Mina's state of being by the end.
Mina hails from Cumberland, Maryland and she collaborated with Producer, Jason Rubal of Seventh Wave Studio on this new project.   Mina gives thanks to vocal specialist, Rosemary Ostrowski, who has also worked with Shirley Manson of Garbage.   Much praise is also given to Eugene Foley/Foley Entertainment who represents Mina.   With Grammy winning clients on Mr. Foley's side, Mina seems to be in good company.   Can't forget the band that helped make Mina's dark dream become a reality.
The record offers up six songs of heartfelt gloom.   You are simply getting a heavy dose of Goth Rock Minia.   Gothic and rock elements mixed with Mina's melodic vocalizing makes for one unique album.
The six-song-set starts up with a song titled "Burning", which supplies heavy guitar riffs, slammin' drums, melodic vocals over the top of a very dark-spirited demeanor.   The next track, "Fade to White", has some definite, scary-like elements of sound.   "Save Me", to me, is the most innovative of all the numbers due to a highly interesting style of gothic blues.   "Addict of Depression" has Mina singing with a different type of vibration to her voice while "I Am" gives you spine-tingling background whispers that are just downright creepy & mysterious.   The album ends with an unsettling tone where you feel you are entering a world of delirium by going into the deep mindset of Mina.  
For more on Mina and her latest release, SKOPE out www.myspace.com/mina.
By Jimmy Rae
[Rating: 3/5]