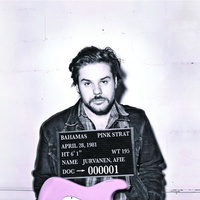 Very rarely does an artist choose a stage moniker with apt precision. Finnish-Canadian troubadour Afie Jurvanen and his axe over his shoulder attitude is better known as Bahamas. Though this reviewer has never visited the tropical island region, it's safe to say that if I do go, I'll be bringing Bahamas Pink Strat with me. How Jurvanen, who recorded this album in the last two weeks of 2008 (Likely through a horrendous winter) has managed to capture lazy island rhythms so effortlessly is beyond me.    
There's a graceful ebb and flow to Pink Strat, one that charms listeners early on. Yet by the end of Pink Strat, including the tearful, rustic "Til The Morning," that aforementioned charm evolves into an engulfing wave of mysterious folklore. Jurvanen's tales of love and woe are timeless, as are his aesthetic leanings.
Owing much of his sound to the critically lauded artists he's played with in the past, including indie chanteuse Feist, Jurvanen carefully executes a soft, playful touch on these sounds throughout Pink Strat. "Let The Good Times Roll" runs through a classic sounding blues-folk feel, yet by keeping it slim (As Jurvanen manages to do on the entire record, with only three of twelve tracks clocking in at more than three minutes) and adding a funky turn of events in the chorus, Jurvanen has honed a sound to call his own. It's one that definitely worth lending an ear to. Tell your boss that your newfound demands for a vacation are the fault of Pink Strat. Influence is a wonderful thing.
By Joshua Kloke
[Rating: 4/5]