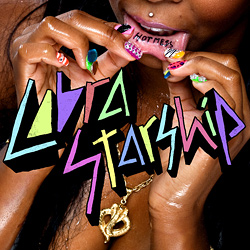 With an album named Hot Mess with its garish cover art, Cobra Starship delivers another musical punch line. Their irreverent humor and cavalier attitude make it hard to know when they are joking — where the lampoon ends and the music starts. To this day, it's not clear whether or not their name is supposed to be a play on Jefferson Starship. That wouldn't be surprising; Cobra Starship has always shown an affinity for the trends and sounds of the 80s. They are determined to send us all back to those neon-spattered, scandalous times.
Not much has changed since ¡Viva la Cobra!. Front man Gabe Saporta is still delivering tongue-in-cheek humor, like on "Pete Wentz Is The Only Reason We're Famous", which is a song that satires the band's rise to the top as the culmination of some 'dick-riding'— a euphemism for riding the coattails of the famed Wentz. But now he's not delivering those messages just on top of a synthesizer. It now sounds like there are actually five members in the band. Hot Mess introduces what was more prominent in the band's first release, "While The City Sleeps, We Rule The Streets", than on ¡Viva la Cobra!. Here there is an actual rock sound. Throughout the album, Ryland Blackington's guitar shedding skills make an appearance, on "You're Not In On The Joke", Blackington pulls out mini solos and towards the finale of the song is joined by hardcore screaming, turning the song briefly from pop to metal.
On the super-catchy "Good Girls Go Bad", Saporta is joined by "Gossip Girl" star Leighton Meester, something that came as a result of Saporta's guilty pleasure for TV show. For Meester's first musical effort, it's actually one that reveals a new talent. "Good Girls Go Bad" alone is a song that is suited for night clubs. With a perfect chorus, and "Hollaback Girl"-esque hook, this is the song that could possibly open up shiny new doors for the Cobras. Unfortunately, the other tracks surrounding this one may close those doors. Opener "Nice Guys Finish Last" begins with what sounds like a could-be triumph, a pumping drum intro and contagious sirens, but one particular synth and familiar verse/chorus after another, "Nice Guys Finish Last" starts to sound more like a rip-off of Britney Spears' "Womanizer". On almost every track, there is some form of cheering joining Saporta, creating a bit of monotony.
Closing the album is "The World Will Never Do", warm, relaxing church organ-backed song featuring Atlanta-rapper/hip-hop artist B.o.B., who makes a flawless delivery. Together, Gabe Saporta and B.o.B. give Hot Mess just what it needs: a retreat from complex electro beats, guitar shredding, and pounding drums. It's the same way Cobra have ended their last two releases, and will probably be the same way their future releases finish off, and that should never change. Cobra Starship have shown us they can produce nightclub-ready hits, and it's the neglected dance-ballads like "The World Will Never Do" that show Cobra has another side — a side they should try to show more often.
If you're an old Cobra Starship fan, who has been hoping for the band to return to their first album's sound, maybe next time. Hot Mess is more pleasing to newer fans who caught on with ¡Viva la Cobra!. If you're neither and have never made the attempt to listen to Cobra, then this would be your best chance to check them out now. The album has its definite disappointments, but the triumphs are more abundant.
[Rating: 3/5]
By Norrel Blair