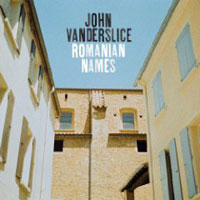 John Vanderslice isn't new to the music scene, Romanian Names is his seventh album in only nine years. He is a prolific artist with a wide berth of work and production experience plus collaborations with bands like The Mountain Goats and Spoon. His expressive and poetic spirit is delivered in a signature sound which is further solidified on his latest release.
He crafts songs with an organic sensibility, all his music is produced with analog equipment, a signature style he dubs "sloppy hi-fi". The result is a crisp yet living and breathing sound work. It's like a record player needle hiss captured in high definition. The idea is to capture the entire range of sounds but not to necessarily clean it all up. He keeps it honest and this honesty directly correlates to his song writing. It is narrative and genuine – at times it can be dark and other times triumphant. But one thing you can be sure it is unadulterated and unspoiled.
The honesty may be why his music hasn't made it to the mainstream, or maybe it's the fact he doesn't have a marketing budget. It's hard to believe if his music was played on the radio that it wouldn't gain mainstream acceptance. Nevertheless, this success and exposure remains ever elusive for the humble songsmith originally from Gainesville, Florida but now residing on the West Coast.
Romanian Names is nearly all down tempo throughout, Vanderslice's voice floats like a breeze over the melodies as it wavers from mid range to falsetto heights. He invites you into his world and experience with introspective lyrics. He has a story telling approach with his narrative song style. On "Too Much Time" a song about coming to terms with a lost relationship he sings "Stone by stone / I ended here all alone / Brick by brick / I walled myself from happiness".
On "D.I.A.L.O." there is a lot of interesting instrumentation wrapped in a comforting buzz, stop and start snares combines with melodic keyboards, with male and female voices echoing on the chorus. In contrast other tracks are a practice in minimalism that have a almost imperceptible momentum – hovering at a glacial pace towards an eventual build up. "Forest Knolls" is one of those with its heartbeat that slowly meanders until it peaks with bursting horns. The catchy "Carina Constellation" features layered vocals, pleasant harmony, piano and light drums. Vanderslice employs some Balkan folk singing styles like a toned down Zach Condon of Beirut which is an effective vehicle for his poetic lyrics.
By Shaun Flagg

[Rating:4-5]

Listen to "Too Much Time"
[audio:http://skopemag.com/audio/04 Too Much Time.mp3]