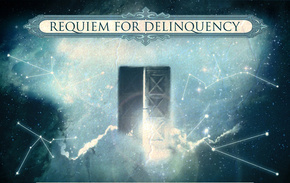 My next guest is a musician in the purest of forms. After listening to his new album, 'Hobs End' it was amazing to me to find out that the band, Requiem for Delinquency, is a one man classically trained composer named Faron Chance Morrison. The music that RFD creates might not be for Top 40 radio but that is not important here. What is important is Requiem for Delinquency is about creating music that is created on his own terms. Join Stoli as we talk with Requiem for Delinquency about everything from indie promotions, red wine, the business of music and so much more!
Stoli: I love the name of your band. How did you come up with that awesome name?
Requiem for Delinquency: Thanks. The name Requiem For Delinquency came from a realization (without sounding too heady) that our society really is starting to come apart.   It seems like the traditional values we grew up with are just fading on us.   The lines between right and wrong are more and more blurred with each passing newscast.   And therein lies the motif behind Requiem For Delinquency – hope, hope for all of us regular guys.
Stoli: Your new CD, 'Hobs End' is out now. How long did you work on that and are you pleased with how it came out?
Requiem for Delinquency: Hob's End was written, recorded and mixed in about 5 months.   Graphics, mastering, and post production took another 2 months. So 7 months "all in".   We are very happy with it.
Stoli: In regards to sales, are you expecting more fans to buy the album online or at retail?
Requiem for Delinquency: We tried to position ourselves where the music is available either way.   Right now we are seeing it go 60/40 digital to disc. But it also changes week to week.
Stoli: When it come to promoting the album, what strategies have you found to work such as Twitter, Facebook, etc?
Requiem for Delinquency: The social networking sites are a great way to promote.   However, we also do a lot with our fans directly through the website.   And usually our fans are hitting us on the site as a result of a show or download.   Many times one new listener will have Five friends who also become listeners, and it kind of goes from there.   We have met so many cool people that are into the music and the movement.   It's been awesome.
Stoli: The reviews I have read on the album have been positive. How much does that play into when you are creating an album or do you do it for yourself?
Requiem for Delinquency: We have been very fortunate to be able to do this on our own terms.   The main thing has always been – nothing tricky or weird in the changes (music).   We just wanted it to be big, punchy, and clean, the kind of music you put in your car and roll out on the highway with.   Feel good music.   And that, we hope transcends all listening styles or preferences.  
Stoli: Where do you go look for inspiration when you are songwriting?
Requiem for Delinquency: I am most inspired by any lost voice from the past or future.   Many times a song will be written around the concept of, "if that person could speak, what would they say if they could say it?"   Many of the songs on Hobs End are about experiences from the past.   The way someone was treated, or not treated, spoken to, or not spoken to.   Opportunities missed, and moreover, opportunities that are about to come.
Stoli: Seeing how well you have produced, marketed, and distributed this album is very impressive. Do you feel that you need a major label or are you happy going to indie route?
Requiem for Delinquency: The best thing we ever did was realize that it's just a business, and that makes it a numbers game.   It's still Labor, materials & equipment.   Why someone would want to pay margins on direct expenses escapes me.   None of the record labels would even talk to us anyway.   So we figured we could just be stupid by ourselves.
Stoli: What are the advantages & why did you decide to make Requiem for Delinquency a one man band?
Requiem for Delinquency: It's funny, but not completely true.   I love the one man gigs because I have to really hustle to get to everything. But many times we bring it out as a trio or even quintet.   It really depends on the room, etc.   The bigger the better.
[youtube c0kSWIWmy6E nolink]
Stoli: Your music is very experimentative. What helps you to open your mind and get in that creative space?
Requiem for Delinquency: The doctor says red wine for medicinal reasons, so in the spirit of good health, a bit of French wine can't hurt.   an open mind is what's most important.   "it may not be right, but it's certainly not wrong – let it be what it is."
Stoli: The Internet has opened doors to many niche bands are musicians. Do you aspire to be on Top 40 radio or is that not a priority and why?
Requiem for Delinquency: We just want to feed our family and pay the bills.
Stoli: I love the track "Today." What is that song about?
Requiem for Delinquency: We love that one too.   "Today" is merely a question.   Will we get to do all the things we want to do, before we die?   The answer of course is hidden in the lyrics.  
[youtube uoKuKHYosN0 nolink]
Stoli: Will you be heading out on tour to support the album and how much does your live show mean to your overall music portfolio?
Requiem for Delinquency: Yes, we just got back from several warm up shows in the Southeast.   We are fortunate to have a couple nice opportunities coming up in the very near future.   The live show is crucial to full R4D experience.   The entire live show includes monster video clips and special effects that run in time code with the music.  
Stoli: Where can readers get more Requiem for Delinquency and what can we look forward to?
Requiem for Delinquency: www.requiemfordelinquency.com tons of stuff happening there, all the music, a new bonus track "Mechanism", video footage from DC, and NYC, the bosendorfer piano sessions, pics from mastering, our new clothing line R4D.   and the definitive word on the shows.   Come see us, we want to know everyone.   Everyone.