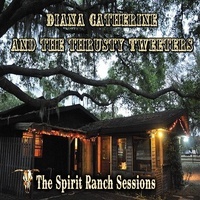 First off, I wanted to get the inside scoop on Diana Catherine and these Thrusty Tweeters–just who they are really?   Well, if you're going to go strictly by the definitions of thrust & tweeters then they would be a band pushing or driving their music with force through a small loudspeaker.   The first part maybe correct, but the latter not so much.   This Canadian group is definitely making a push forcefully, but there is nothing small or small-sounding about the new album, The Spirit Ranch Sessions.  
This bunch of thrust-worthy, tweeter-heads is made up of:   Diana Catherine on lead vocals, guitar & harmonica–Nic DiSanto on bass & backing vocals–Matt Blackie on drums, percussion & backing vocals–and Kevin Robinson on guitar.   This record offers an array of musical genres from folk to southern rock to country to roots rock to straight rock to even elements of blues.   I, myself, would label this album Rustic Rock because of its countryesque charm.   The CD has a real down-on-the-range, country-prairie type vibe.   The sound is very rootsy, rugged and earthy while also rockin' at the same time.  
One major factor on this new record is the voice of singer/songwriter, Diana Catherine.   She sings with such passion and conviction through every line and note.   Her heartfelt and soulful approach to singing is without a doubt one of the shining moments on the record.   You can really feel her emotions just by the way she vocalizes on The Spirit Ranch Sessions.   I also loved the kick-ass guitar solos that were simply just sweeet & thrusty!
Catherine adds a nice touch of the harmonica to some of these tracks.   The harmonica playing really gives that train-keeps-a-rollin' tone and perfectly matched up on the bluesy number, "Train Song".   One of my favorite tracks on the record is "Sober (is too hard to stay)" because of its fun, carefree attitude displayed by Catherine & company.   The song offers some real cool energy that could even be coined as a rebel-rousing anthem with a joking punch.   I'd dedicate this one to all you barflies out there who like to have a good time.  
Overall, Diana Catherine and The Thrusting Tweeters are bringin' the heat with this one.   Turn up your tweeters and get ready to thrust full range ahead.   For more on this Canadian foursome and their latest release, The Spirit Ranch Sessions, SKOPE out www.dianacatherine.com.
By Jimmy Rae
[Rating: 4/5]