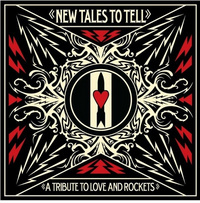 Former Bauhaus (first gothic rock group) rockers Daniel Ash, David J and Kevin Haskins became Love and Rockets in 1983.   Named after the ground-breaking comic book by the Hernandez Brothers, Love and Rockets have been putting out influential genre-spanning music for decades.
 
Proof of Love and Rockets influence can be found in the amazing talent that has been painstakingly rounded up by Phil Jaurigui   and Christopher The Minister. Everyone from Black Francis, The Dandy Warhols, Lossy Coils w/ Ian Moore and The Flaming Lips gladly guest on this tribute.
 
Love and Rockets have very intelligent and whimsical lyrics dealing with the   psycho-spiritual energy of the consciousness in "Kundalini Express" (covered by the Flaming Lips) , The Apollo program in "Holiday on the Moon" (covered by Puscifer (MJ Keenan) and the socio-political constructs of America in "An American Dream" (covered by Film School).
 
This album sounds fantastic too.   Every artist has put it's own individual spin on the song they covered; The Flaming Lips have put their trademark psychedelic and avant-garde spin on "Kundalini Express" and "Lazy" has become Jazzy version of its former self   done by Chantal Claret vs Adrian Young.
Do yourself a favour and get acquainted (or re-acquainted) with the super influential band Love and Rockets on CD and Red and Blue vinyl.  
"All In My Mind " – "You scream, 'give me what I've always missed, give me a good time'" shouts Black Francis. Not only does this song live up to this mantra, but the whole album does.
"Kundalini Express" – Although, somewhat muffled, this songs lyrics show what is lacking in music these days.
"I Feel Speed "- A quintessential road song for any motorcycle rider.
Tracks:
All In My Mind – Black Francis
Holiday On The Moon – Puscifer (MJ Keenan)
Love Me – War Tapes
No New Tale To Tell – Blaqk Audio
I Feel Speed – Dubfire
Inside The Outside – The Dandy Warhols
Life In Laralay – Sweethead
An American Dream – Film School
The Light – A Place To Bury Strangers
Mirror People – Monster Magnet vs Adrian Young
Fever – The Stone Foxes
No Big Deal – Frankenstein 3000
It Could Be Sunshine – VEX
So Alive – Better Than Ezra
Haunted When The Minutes Drag – James Hall
Lazy – Chantal Claret vs Adrian Young
Sweet F.A. – Lossy Coils w/ Ian Moore
No Words No More – Snowden
Sweet Lover Hangover – Charlie & The Valentine Killers
Yin And Yang & The Flowerpot Man – Halloween Jack
Seventh Dream Of Teenage Heaven – The Manichean
Bound For Hell – Johhny Dowd & Billy Cote
Saudade – Halls Of The Machine
Kundalini Express – The Flaming Lips
Life In Laralay – The Morlocks
No New Tale To Tell – Astra Heights
Review By: Shawn Alexander Roy
[Rating: 5/5]