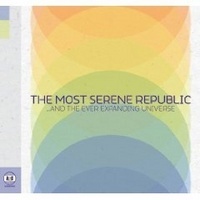 The Most Serene Republic are what happens when a bunch of young, earnest musicians get together in a room and pay attention to detail. They run the gamut of instrumentation and harmonies, producing a layered ebb and flow complemented by Adrian Jewett's rambling vocals. What's particularily striking about "…And The Ever Expanding Universe" is how contained and focused TMSR manage to sound. Keys are featured prominently, while shuffling percussion keep this chamber-pop gem rolling nicely. There's a spacey, cinematic feel to the record but not enough to discourage listeners who crave a poignant and uplifting experience.
The seven members of TMSR entice listeners with tiny nooks and crannies which fill the record; no single track stands out, although the comfortable bop-along of "Four Humours" features an airy sing-a-long chorus that gives second vocalist Emma Ditchburn her due credit.
Though this record likely won't break down any walls of sonic originality, it's just fresh and concise enough to be the perfect summer record. There are tunes wide in scope for the road trip and tight prog-rock for a spin around the block. Saddle up and take a ride with this one; it won't be leaving your ears anytime soon.
Review By: Joshua Kloke
[Rating: 4/5]