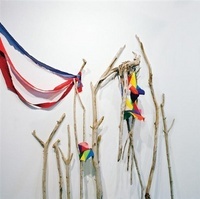 Gather around the campfire, take a few swigs from the bottle of ambiguous alcohol, start banging worn-down pots and sing loudly, regardless of your vocal training. Never mind the strange resonance lurking in the darkness and forget about what you think you saw. If this sounds like your kind of night, then the debut LP from Bruce Peninsula, "A Mountain Is A Mouth" will bring this vibe to your speakers with all the emotional haunting that comes along with it.
The eerie mish-mash of sounds that comprise "A Mountain Is A Mouth," all have one thing in common: a lack of restraint. From the drunken howl that keeps that the clap-a-long of "Satisfied" afloat to the punch-up, crawling in and out Zep-inspired guitar on "Shutters" (That aforementioned howl has evolved into a beautiful, spiritual pitch) Bruce Peninsula hold nothing back. Of course, how could you with your band being formed by eleven members. The limitless tendencies on "A Mountain Is A Moth" are a daring move for a debut; but they pay off.
When the record begins to tread water on throughout the opening half of the acoustic lullaby   "Weave Myself A Dress," it's easy to assume that "AMIAM" has peaked early. But as the track awakes to something of a rousing call to a heavenly place, complemented by delicately layered vocals, one thing becomes way obvious. Trying to contain the fury of "AMIAM" is a futile process. Give up and give in. Like every good campfire, there's something for everyone.
By Joshua Kloke
[Rating: 4/5]