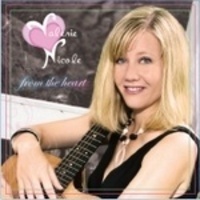 From the moment I pushed play on the CD player, I could tell one thing right away: this girl can sing!   I could also tell something else and that is that Valerie Nicole definitely sings from the heart.   This record is full of love, pain and everything else in between.
Valerie Nicole handles vocals, keys and guitar on the album while three other players round out her band: Keith Privigyi on lead guitar, Jon Rossi on drums and Derek Mauldin on bass guitar.   The entire group folds out nicely and I have to say Valerie on the keys gives the whole record a nice/classy touch-up.   The keyboard/piano playing definitely contributes to the whole feel of the album by adding that extra layer.
Valerie has music in her blood as she started singing in choirs at the young age of six, playing piano at seven and then flute by the age of eight years old.   Music has to be running through her without question.   What an appropriate title then in From The Heart as it stands to be true for Valerie Nicole.
Nicole's singing voice is very impressive with a sweet 'n' subtle touch to it.   She seems to have a genuine charm about her when she sings.   From The Heart is heavily influenced by the concept of love and everything that is lovey-dovey.   You get a sense of a warm 'n' toasty sensation and even that happy-go-lucky-sort-of-feeling when listening to Nicole pour her emotions out.   There is even a sense of motivation, determination and strong will power on certain tracks.
On the opening song, "Misunderstood", Valerie Nicole is singing for all the confident women out there.   "Just because I'm cute doesn't mean I'm stupid" and "I'm not just a play thing" all signify Valerie's determination to overcome stereotypes.   She sings in such a pleasant fashion with soothing harmony while adding in a nice dash of piano.   Her angelic tone ironically enough doesn't match up with the overall message, which makes "Misunderstood" a special moment.   Nicole decides to veer off track and end things on a serious note.   The song is titled "Demons" and it's about running from the demons from your past.   The stories unfolded here are quite sad with an immense feeling of pain/hurt.   Valerie Nicole, by the end of this record, really seems to have come full circle.
For more on Valerie Nicole's sheer beauty From The Heart, SKOPE out www.valerienicole.net.  
By Jimmy Rae
[Rating: 4/5]