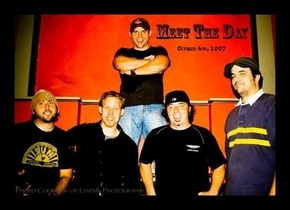 Since 2001 Meet The Day have been engraving their sound throughout Boston & all over the Northeast. If you follow the independent scene then you are familiar with this group of incredible musicians. Meet The Day are prepping to give their best performance yet on July 17th at Copperfields in Boston!
Skope: How did you decide that you wanted to play the 2009 Skope Live! Summer Bash?
Meet The Day: MTD was approached by Mr. Matt Shwachman to perform on this bill… we loved the sound of it and confirmed the date…
Skope: Playing in a legendary club like Copperfield's must be cool. How do you prepare for that to give the best show possible?
Meet The Day: usually before a big show we like to eat 3 pieces of toast (with jam) , drink a purple Vitamin water and recite Mel Gibsons monologue from "Braveheart". That will put us in just the perfect mindset to play a killer rock show.
 
Skope: The lineup for the show is sure to rock the crowd. Are you familiar with the other bands and anyone in particular you are excited to watch?
Meet The Day: Sure. Keith Kane is very well known, or at least his music is. Matt Swachman we have seen and played with before and he was a definite quality act…
Skope: In this day and age of Myspace & Youtube what methods have you found to be most effective to make sure your fans & friends all make it out?
Meet The Day: E mail adresses and Facebook event invitations… thats where its at. also,,, the regular old phone texting works wonders!!
Skope: What do you have going on that you will be promoting the night of the show?
Meet The Day: MTD has spent the last few months in the studio making a pre-production LP of all or our new songs… which means that "hopefully" a new album will be on the way shortly!
Skope: What is your favorite part of the night when you get to play live?
Meet The Day: Probably when we first hit the stage. Our own anticipation of performing in front of a crowd,,, and the crowds anticipation of watching us perform are both very powerful and energizing…
Skope: Part of the proceeds from the night go to Jimmy Fund. What does that mean to you & does that make the show a bit more meaningful to you?
Meet The Day: Well,,, when performing a Live music show where everyone that plays has given the ok to donate partial proceeds to a charity or an event is a truly amazing event. Musicians at this level are barely making enuff to pay for parking,,, and to know (with that being said) these bands are still donating their proceeds to the Jimmy fund is pretty exceptional! :)
Skope: What ritual do you have to get yourself ready to go on and perform live?
Meet The Day: Anxiety ridden mumbling and severe trembling.
Skope: What can people expect from seeing you live and do you have any tricks up your sleeve for that night?
Meet The Day: All we can say is that MTd will try and provide a fun-filled nite of entertainment that people will remember for quite some time. we always give 100% and as far as surprises go,,, there's usually something that occurs during the show that nobody would ever expect.
 
Skope: Nommatter what happens to sales of recorded music, the live show will always be in demand. How much does your live show play into your bands overall musical portfolio?
Meet The Day: Our live is "WHO WE ARE". MTD on stage is where we shine. for true!
 
Skope: Music lost a legend when Michael Jackson passed away in June 2009. What can you take away from his amazing live show that you can use in your own way?
Meet The Day: Passion, Innovation, and the way he shakes his leg. ;)
Skope: With such a stellar lineup for the show does that add pressure to bring your top performance and how much pressure do you place on yourself?
Meet The Day: Nope, nope nope…. its not a competition… it is a bunch of guys all doing what they love to do… we want the best for everyone on that stage, in that show, and in that crowd. its FUN time!
 
Skope: Please let readers know all about what they can look forward to from you beyond the show on 7/17/09?
Meet The Day: More music,,, and many more shows. ;)~
 
www.meettheday.com
www.myspace.com/meettheday