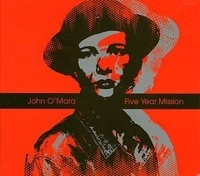 Five Year Mission is John O'Mara's debut solo album and hopefully the mission will be complete after five years.   The title actually comes from Star Trek and pertains to the amount of time O'Mara gives his musical journey.   The backbone of the new album rests on O'Mara's shoulders for being the best at what he does.   His dissatisfaction of settling into a life without music is the driving force behind the record.   Pursuing his dream and then seeing where it takes him is John O'Mara's Five Year Mission in a nutshell.  
John O'Mara is the sole writer of all the songs here along with providing the vocals, guitars, bass, keys and drum programming.   Sean Flora is the other contributing factor providing bass, guitar, keys and drum programming.   The record was produced by both O'Mara and Flora.   There are four guest musicians adding additional vocals & drumming to certain tracks.  
O'Mara's creation here is extraordinarily different & eclectic to point of it being overly radical.   John is going away from the norm and saying hello to his own breed of music.   That style is a blend of pop/rock/alternative with electronic & 80s elements.   All the while, O'Mara is keeping it vibrantly modern while evoking a fun side and then more of a darker cloud emerges.   This singer/songwriter from Portland sings with much vocal influence to that of the great David Bowie and even a glimpse of David Byrne of The Talking Heads on Track 2, "Amiss".  
The CD begins with one hell of an electronic rock trip and then goes into "Amiss" with a spark and flare of the 80s sound.   This song hones in on a pop appeal while even throwing in the robot sound effect.   I gotta say, I'm a big fan of the robotic effect so not hatin' it!   I also picked up on two instances of a bigger-than-life sound right on the chorus.   Go big & loud or go home is the message here on tracks four and eight.  
Something else I heard while listening to the record was O'Mara's emotional side of despair & sorrow.   "Drowning", which already screams depressing, gives off a saddening vibe while producing a heartfelt pain.   O'Mara sings during one line: "I fell in the ocean, lost in the waves".   You're thinking to yourself, "Man, come on get yourself out!"   Next up is "The Broken Part", which has the front-man "Watching snowmen melt away".   He sings in such a light/soft manner but with such fear/hurt backed behind his voice.   This made me think of that movie, Jack Frost, where Michael Keaton dies and becomes a snowman thanks to his son.   Cheesy idea, but what a great movie!
"Made of Stone" is exactly that with a definite, hardened exterior from O'Mara's vocal approach.   You hear a distinct darker tone of vocals here, but surprisingly enough all done to a dance beat.   "I Saw You" features a mellow and oh-so-soothing guitar melody blending in with the nice touch of O'Mara and Morgan Grace on vocals.   The combination between the male and female voice here is done in such a soft yet powerful way.   "Satellite Radio" is sung with such conviction by O'Mara to the point where the listener can really feel it.   The album ends on a wildly creepy note with "It is Done".  
Overall, John O'Mara is being innovative by being abruptly diverse in taste.   I love all the sound effects being utilized and how they are used in such an unorthodox fashion.   I'd also like to add that there were some very cool guitar parts throughout this record.   I have to admit, Five Year Mission is a lot to take in at once but maybe that's why O'Mara wisely gave it a five year stamp.   For more on John O'Mara and his debut album, Five Year Mission, SKOPE out www.myspace.com/fuzzzmonkey.
By Jimmy Rae
[Rating: 2.5/5]