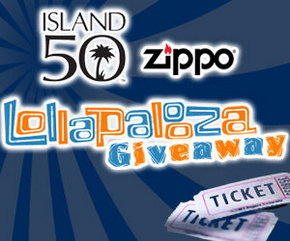 To celebrate their 50th Anniversary, Island Records is teaming up with Skope Magazine to give you a chance to win a pair of tickets to the annual Lollapalooza festival in Grant Park, Chicago and a $100 gas card to help get you there!
If a weekend full of live music with mega-stars The Killers, Beasties Boys and Tool (to name a few) wasn't quite enough then you're in luck because Island Records is also hooking up the Grand Prize winner with the entire Killers' catalog, as well as albums from Noisettes, Airborne Toxic Event, and Ida Maria.
This contest will end on August 3rd.