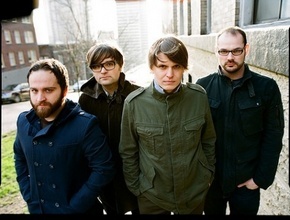 Atlantic recording group Death Cab for Cutie has unveiled a new video for their song, "Little Bribes," which is featured on their recent EP, "THE OPEN DOOR."    
The inventive clip was directed by director/cinematographer Ross Ching and can be viewed:
SKOPE IT HERE!
 
A longtime DCFC fan, Ching's interest in time-lapse photography was spurred by the "Brothers On A Hotel Bed" video from "DIRECTIONS," the DVD companion volume to 2005's Grammy Award-nominated, RIAA platinum-certified label debut, "PLANS."   Thus inspired, the San Diego State University film school graduate created the "Little Bribes" clip on his own, which he then posted on his personal website under the heading, "Looking For A Job."   When the members of Death Cab saw Ching's work, they immediately decided to release "Little Bribes" as the track's official video.     As if that weren't enough, Ching has since been hired by Atlantic Records to helm a future video project for the label.