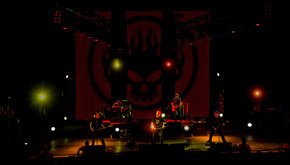 Offspring featuring Dropkick Murphys at The Lawn at White River State Park in Indianapolis, IN.
It was a steamin' hot, 90+ degree evening on Saturday, June 27 in Indianapolis, IN.   The place to be that night was definitely The Lawn at White River State Park, which had two exciting acts in The Offspring & Dropkick Murphys.   As a matter of fact, for the last three years The Lawn has been voted as one of the top 100 concert venues in the world by Pollstar Magazine.   I was definitely pumped up with the sun beaming down, sweat rolling and Captain & Coke in hand.  
Dropkick Murphys was the opening band and I have to be honest in saying that I knew absolutely nothing about this group coming in.   However, after it was all said and done I left with huge respect for this act.   Dropkick Murphys, originating in Boston, blend the classic Irish/Celtic sound with some rock, punk & alternative.   The vibe is very different, but very refreshing to hear.   I absolutely love the style of hard-core punk mixed with the soothing sounds from Ireland.   The bagpipes were in effect that night and I must say, along with my dad, one of the purest sounds out there.   The performance brought much energy and created an environment of real Irish raucousness.   I witnessed a sea of green shirts, a few Mohawks and even some men in kilts.   The punk rock scene and Irish scene united right in front of my eyes–it was a beautiful sight.   Fans were digging the Dropkick Murphys in a big way and I can now honestly see why.   I apologize for not knowing any of their songs, personally, but I did take away a very cool line that seemed to be a fan favorite: "KISS MEEEEE, I'M SHIT-FACED!"  
Next up, the band I was completely stoked about seeing for the first time was The Offspring.   As a fan for years now listening to great songs from albums such as: Smash (my all-time favorite), the commercially, successful Americana along with their latest hit record, Rise And Fall, Rage And Grace.   These cool cats did not disappoint the fans by mixing classics and new stuff.   Songs included were: "Pretty Fly (For A White Guy)", "Why Don't You Get A Job?", "Come Out And Play", "You're Gonna Go Far, Kid", "Kristy, Are You Doing Okay" and "Stuff Is Messed Up"–or as Dexter Holland likes to say during the song, "Shit is fucked up!!".   The Offspring did a song that I really enjoy off the Smash album, "Bad Habit", which is an in-your-face jam aimed at road rage.   A line that goes by "You stupid, dumb shit, goddamn motherfucker!!"   says it all and I simply love it!   The Offspring came out for an encore due to fans chanting their name over and over with a flurry of claps and loud yells.   They finished with one of their classic tunes, "Self Esteem", which led to the crowd going completely nuts including myself!   These rockers from Cali helped reinvent the punk scene making it more pop/radio friendly and have been doing so for years now.   Many more to come, I feel–Keep it Rockin' Offspring!
I do have two minor faults to mention about that Saturday night performance.   First, I believe that the speakers may have been up a tad too high because it caused for the sound quality to appear not crisp & clear at all times.   Don't get me wrong, the overall audio was definitely loud & in charge, but I think the amplifying effect should have been tweaked with prior to the show.   Second, The Offspring had made a reference to Michael Jackson and Farrah Fawcett that was supposed to come across as a funny punch line, but in reality came across as tasteless and disrespectful.   They had mentioned that "Farrah's last dying wish was for kids to be safe all around the world".   With Jackson's alleged child molestation charges, they were stating that Farrah's wish did finally come true.   I felt that to be completely out of line and uncalled for considering these two people just died.   The fact is that Michael Jackson, no matter what, is still a legend in the music world and no one will ever take that away from him.   Whatever happened in his personal life is up for God to decide now, so I thought the joke was very tacky to say the least.  
Overall, I was very impressed with the performances by both Dropkick Murphys and The Offspring.   Two very good bands & one great venue = one hell of a rockin' time .   I have to finish by giving a shout out to Brian and Monica from Peoria, Illinois.   My girlfriend and I just met them for the first time Saturday night, yet we acted like we knew each other for years.   Good music, good times and good people—Cheers to you guys (Bang Bang!)
By Jimmy Rae