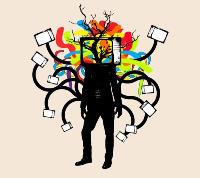 Transgradulate is a made up term that roughly means "to graduate into a new phase of life with joy".   The meaning definitely stacks up to the new record as these three musicians combine many different musical elements.   The overall sound is quite different yet very fresh.
The band is made up of Whidden Flores on keyboards & drum machines, Lorin Atzen on drum machines & FX and Ani Johnson on vocals.   Johnson recently graduated from Cornish College of Arts as she once sang with the Seattle Opera and even backed up Janet Jackson.   Flores, on the other hand, has been hittin' those keys for 18 years and has even trained with Grammy artist, Julie Bonk.   Atzen is a pure wiz at the turntable creating such creative sounds/sound effects.
The music on Transgradulate definitely has a techno vibe, but with a danceable pop groove.   There are even elements of trance and electro-rock thanks to Whidden's style of playing on the keyboard and drum machines.   Wunderbugg seem to have created a virtual world full of wonder & excitement.
One aspect that really floored me is that Wunderbugg took a techno, dance beat and added vocals to the mix that gave it that pop appeal.   Pushing the envelope within the realm of techno, electronic and DJ music is the obvious premise here.   I must say also that Ani Johnson's vocals seem to add a nice layer and dimension to the overall picture.   Johnson's singing ability is impressive contributing a wonderful pitch and melody to the final recording.  
My favorite element on the record is the mixing of so many diverse sounds.   The audio visual is quite immense with an array of unique sound effects.   You get a taste of a hypnotic/trippy state along with a robotic/space-like feel during certain tracks.   Overall, the drum machines hit hard and their presence on the record is overly plush.   In the end, I'm impressed with Wunderbugg's original twisting of beats & music.   Music that you can dance to, groove to, think to and even sing to are all relevant here on Transgradulate.
For more on Wunderbugg and their latest release, Transgradulate, SKOPE out www.myspace.com/wunderbuggispimp.
Review By: Jimmy Rae
[Rating: 3.5/5]