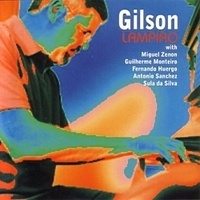 Whether you're looking to entertain your guests for a dinner party or have a romantic evening with your significant other, Gilson Schachnik has you covered with Lampiao.   Gilson brings you the vibrant sounds from Brazil along with heavy doses of jazz, pop and even some funk.   Gilson provides elements from traditional Brazilian music such as: Bossa Nova and samba, but adds his own, personal twists to these numbers.   With Schachnik covering all the arrangements of each song, the end result is a fresh/modern take on the culture of Brazilian music.
Gilson plays piano on the record and in such a superb manner.   This renowned pianist has been playing since the young age of 11 and now he sounds like a pro at the keys.   Gilson's piano playing skills are simply captivating in the sense that so much raw emotion, feeling and energy is filtered out to the listeners.   Gilson is able to set a mood or tone just by the way he hits those black and white keys.   It is worth mentioning that all the music created here on Lampiao is all for the heart & soul of his hometown, Sao Paulo, Brazil.   All the respect, admiration and inspiration Gilson has toward his city and its people are evident on this album.   Gilson seems to be taking his music and the music of Brazil to the next level.
This is actually a re-release of the same record, but now with new & original arrangements created by Gilson Schachnik.   Each song seems to have its own identity with moods playing a big part of the recording.   There are ten tracks on the record with a little slice of this and a little slice of that.
The title track "Lampiao" features a zesty sound with a funky bass line.   The piano playing is quaint yet truly energized.   The next installment, "Chega de Saudade" is much softer with more of an elegant touch overall.   Song four, "Samblues", is one of my personal favorites on the album because of its overly cool/ jive-rated flow.   The alto sax part helps by keeping it all in check and sexy while the entire band really pushes this one hard.   "Ne Touches Pas A Mon Pote" offers up a fun-vibin', dance-oriented beat that really steps and moves along with an enriching guitar solo.   I loved this number as well.   "Mr. D. P." is full of spirit and spunk tailored as a tribute to one of Gilson's teachers, jazz great-Danilo Perez.   Next up is "Juventude Transviada", which has a romantic feel about it where you can picture oneself having a glass of wine to over a nice, candle-light dinner.   This song is for all you guys out there who claim to be romantics or maybe trying to earn some bonus points with that special someone.   Just slip this song in and see if some magic can happen.   The final cut, "Song to Become Famous at Berklee" is full of positive energy with a tremendous flurry of drumming toward the end.  
The record offers an easy-going flow with soothing melodies for the soul.   I can't leave without mentioning the terrific backing band behind Gilson.   The guitar, sax and bass lines are all key components to the complete makeup of Lampiao.   I was highly impressed with the drum/percussion sections as they seemed to be the true driving force and really set the pace for the entire record.   Each musician really seemed to feed off of one another in such a wonderful fashion.   The final conclusion is that masterful artistry was at work here.
For more on Gilson Schachnik, his band and the new record, Lampiao, SKOPE out www.candidrecords.com.
Review By: Jimmy Rae
[Rating: 4/5]