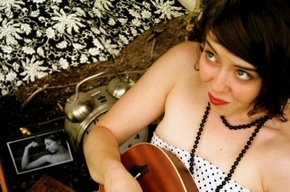 My next guest is a female musician by the name of Adrian Emberley. There is so much that I like about her that we had to get her on 'Skoped Out.' First of all she is a product of Berklee College of Music here in Boston. She also put out an EP last year named, 'LOVE' that I cannot stop listening to. Adrian was gracious enough to give our readers a deeper look into her life & music.
Stoli: At what age did you decide that you were to move to Boston to attend Berklee College of Music?
Adrian Emberley: I've known since I was a little girl that I wanted   to be a performer.   I used to put on elaborate stage shows for my pets and stuffed animals.   I worked with a theater company in my hometown from the age 10-18 and I was convinced for the longest time that I was going to be an actor.   I started to become passionate about music during my high school years.   When it came time to go to college, I applied to Emerson and Berklee and hoped that fate would take care of the decision for me.   The Universe has a good sense of humor because I ended up being accepted to both.   In the end I chose Berklee because the students and faculty seemed friendly and grounded.   And they weren't going to make me take math.  
Stoli: In what ways do you feel that attending Berklee helped to sharpen & fine tune your music?
Adrian Emberley: In every way imaginable.   Berklee was such a great experience for me.   The first two years you attend no matter what major you are, its required that you take jazz harm and ear training. Once they bring everybody to the same level the creative learning process takes place.   I was pushed outside my comfort zone a lot by my professors.   This is important for any musician since you usually make the best music when you take the biggest risk.   Then they beat you, yell at you, take away your chocolate milk, make you cry and give you endless trying projects and exercises. Its all out of love of course and in the end, if you're still alive, you are a stronger and better musician then you ever thought you would be.   You feel ready to face anything in the rough, intimidating world that is the music industry.   Berklee helped make me tough and confident. I believe confidence is most important detail you can have emanating through your music.
Stoli: At what point did you feel that you were ready to form The Adrian Emberley Band and how did you find the other three members of the band?
Adrian Emberley: The band formed when I met the other musicians.   I met my bassist in my freshman year at a Berklee Songwriting Club meeting. We started playing together at school and around the Boston area and we both realized we had a special connection as musicians.   When you find that you need to hang onto it.   The same thing happened with the other members of the band.   Its hard to get booked in this town as a solo artist, having a backing band opens the door for more opportunities.
[youtube meAdMARWCrQ nolink]
Stoli: The band is named after you but do all members have an equal say in the music you create?  
Adrian Emberley: I am first and foremost a solo artist. Sometimes I bring the bare bones of a song to rehearsal and we all work on the arrangement together.   Most of the time I write the songs and arrangements myself. The band is a creative outlet for all involved, some members just want to show up and play while others have lots of innovative ideas.     Either way, any kind of band is a collaborative effort.
Stoli: Your debut EP is called 'Love.' How much of your real life comes out in your songwriting on this EP?  
Adrian Emberley: Every song has my life in it.   Some more than others.   "We Don't Live Here Anymore" is a storytelling song but I did draw parts of my own life for inspiration.   "This Story" is a very personal song written during a very difficult and vulnerable time in my life.   I still haven't told soul who that song is about and I probably never will.   Unless maybe someone bids big bucks on it at a charity auction to reveal it like Carly Simon did with "Your So Vain." The title track "Love" is a message song.   Its doesn't have a lot of my personal life experiences in it but it was inspired by what I was witnessing in the world.   I feel that musicians have a responsibility to their audience.   When you get up to a microphone and demand that everyone listens to you, you should say something important that might affect people in a positive way, not just talk about yourself.
Stoli: How can media outlets like Skope help educate the masses to amazing talents like you that too often get overlooked by top 40 radio?
Adrian Emberley: Its hard to say since I'm not a journalist or a DJ and I'm not sure exactly what the politics of those businesses are.   As a musician, I would say putting the overlooked talents in features, on the covers and the air instead of the top 40 artists is a good start. I would leave that for the bigwig companies, magazines and radios that dedicate everything to musicians of that caliber. Those top 40 artists were the overlooked talents at one time too until someone decided to give them a chance.   Even Bob Dylan was once Robert Zimmerman.
Stoli: You still live and play music in the Boston area. What does being involved in the scene there mean to you?  
Adrian Emberley: It means I can live and play music anywhere!   Being in Boston for so long I've realized that this is one of the hardest cities to start out as a musician.   Boston has the most colleges/universities than any city in the world.   A handful of those are specialized art schools.   Needless to say you have a lot of "college bands" all competing for the same gigs.   Most of these venues don't want college bands they want touring artists or big established bands so the amount of spots left over are pretty small.   The venues that do give new up and coming artists a chance are great communities to be involved with.   Those communities can be tight knit so its still hard to get your foot in the door.   Like I said, if you can make it in this city you can make it anywhere.
Stoli: What are some of your favorite spots in Boston to play & listen to live music?
Adrian Emberley: I recently played a gig a at Club Passim and I was blown away with the musicians I saw perform there and the quality of the sound.   Its been difficult to find a club that has good sound quality and a sound engineer that knows what he's doing. The audience at this venue was a bit older so they weren't afraid to sing along or look silly.   The Middle East Upstairs is another one of my favorite spots.   The people who run it are always friendly and professional. They have a decent walk-in crowd and the ambiance has colorful bohemian vibe.   My favorite gigs to play are house shows.   They are run by musicians and the audiences are always supportive and interactive. Nobody's yelling over their dinner or talking on their cellphone instead of listening to the music. I feel that the folk scene in Boston has only been able to stay alive because of house shows.   You also never know who you might run into or get to play a song with.   Since these shows are usually promoted through word of mouth, bigger artists can perform and not get rushed by a mob.     House shows make you feel like you're getting back to the good old days of bed-ins and hootenannies.
Stoli: What is the most personal song on the 'Love' EP and what inspired you to put that experience in a song?
Adrian Emberley: The most personal song on the album would have to be "This Story."   I wrote it because I was literally being driven insane by my emotions over an intense situation.   Music is a great release for me, sometimes it's only way I can create closure for myself.   I think the best way to vent is to belt your heart out and pound on an acoustic guitar until you have nothing left.
Stoli: In such a crazy world that we live in what helps keep you optimistic and creative day in and day out?
Adrian Emberley: It's hard sometimes.   The world can get you down after a while or make you feel like everything is hopeless. When I feel like that, I think of the artists who came before me and all the amazing things they did and the effect they had on the world.   It inspires me and I remember that the reason I exist on this earth is to create.   My friends and family are a great support system.   They remind me on a regular basis you just have to believe in yourself and keep thinking positively.   Its sounds silly but it gets me through the day and in the end, all you have is yourself.
Stoli: When you are not making music what do you like to do for some R&R?  
Adrian Emberley: I love to travel.   Getting away to somewhere new is a great way to shake off the blues.   Traveling definitely inspires and refreshes me.   Yoga keeps me fit and calm, I recommend it to any musician.   I like reading, writing, knitting, sewing, hand craft, cinematic adventures and photography.   Music jams are fun, I try to host them regularly, it keeps me fresh.   Its a good opportunity to meet new musicians and they help push me outside my comfort zone.   Of course spending time with the loved ones in my life is important for R&R. Bubble baths and dark chocolate work too.
Stoli: What life lesson have you learned that you feel is still relevant to you today?  
Adrian Emberley: "And in the end, the love you take is equal to the love you make".  
Stoli: What is coming up for you & where can readers grab a copy of the 'Love' EP?  
Adrian Emberley: I'm setting out for a 6 month solo tour of the states in September.   Stay tuned for video, blog and show updates on my websites and myspace. "Love" is available now at:   Adrianemberley.com, Newbury Comics, Bullmoose Music, Itunes, Amazon, Digtunes, Rhapsody and more!