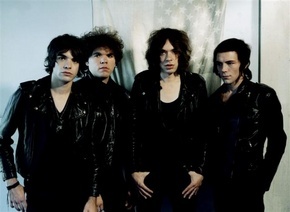 Jive Recording artist Living Things are set to release their digital EP Oxygen on June 16 via all digital retailers.
Tracks on the Oxygen EP are:
"Oxygen"  
"Hellfire Waltz"
"Oxygen" (acoustic version, previously unreleased)
"Oxygen" which is also found on the band's album Habeas Corpus, has just landed at Alternative radio and is receiving great early response from tastemaking stations at the format.
"Oxygen" MP3
Living Things are currently part of the "NYLON Summer Music Tour," along with Patrick Wolf, Plastiscines and Jaguar Love.
 
Living Things are Lillian and his brothers Eve and Bosh Berlin on bass and drums respectively, plus guitarist Cory Becker, a longtime friend from their hometown, St. Louis, MO.
Date                               Location                                           Venue
June 17                       Toronto, ON                                   Mod Club              
June 19                       Buffalo, NY                                   The Tralf Music Hall        
June 20                       Philadelphia, PA                     North Star Bar
June 21                       Boston, MA                                   Middle East          
June 23                       New York, NY                             Highline Ballroom                
June 24                       Washington, DC                     Rock & Roll Hotel              
June 26                       Carrboro, NC                               Cat's Cradle        
June 27                       Atlanta, GA                                   The Loft                    
June 30                       Dallas, TX                                     Granada Theater                  
July 1                             Austin, TX                                     Antone's