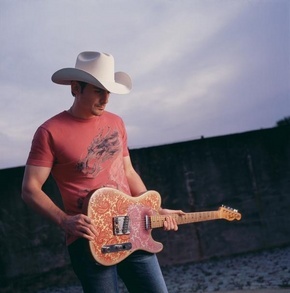 Brad Paisley is that rare creature in the national music scene. Singer-songwriter-ace guitarist in the country genre, Paisley manages to be a big star with his masculine lead vocal and pretty boy looks while at the same time commanding respect from musicians for his exceptional talent.
His concert at the Comcast Center in Mansfield Mass. last night found him in good form on guitar and vocals. He also put on a show commensurate with his superstar status. Remember, Paisley has had 10 songs hit number one on the Billboard charts since he debuted in 1999 with "Who Needs Pictures."
 
On tour to promote his yet unreleased "American Saturday Night" CD, Paisley pulled out a tune called "Then" about his summer time youth swimming every summer day. His guitar delivered it with a mellow twangy lead that explained why this song just became his tenth number one hit.
 
Mostly, Paisley stuck to familiar fare, and that worked well.   He opened with a few verses and chord from "Start A Band" from last year's mostly instrumental CD "Play" and before you knew it he was wailing on "Online," his tongue in cheek ode to computer geeks that sounded more festive live than it does on his "5th Gear" CD. His fiddler spiced the song up a bit and the interplay between Paisley, his fiddler, his banjo player, and the rest of his band was synergistic through out the night.
 
Some interesting covers included Joe Walsh's "Life's Been Good" which sounded familiar and fresh because the country instrumentation subbed well for the original guitars. As a nod to his Boston audience, Paisley, in his acoustic solo section, performed the theme from "Cheers" and he later used the beginning of Aerosmith's "Sweet Emotion" to intro his comical romantic rocker "Ticks," the tune in which he tells his new beloved that that wants to check her for ticks. Paisley and his band really cranked it up on "Ticks" and it was a great moment to showcase the more aggressive side of his playing style.
A crowd favorite was "Waitin' On A Woman," a song Paisley has recorded twice before adding Andy Griffin's narrative to his video. Here, Paisley's vocal strength allowed him to convey the notion of sincere patience with the fairer sex to obtain greater joy in the long run. He walked up and around a balcony that rose over the rear of the stage to show his silhouette playing against the huge back drop of the Griffith visual. Paisley also coaxed a heck of an emotional whopper out of his axe during the number, his guitar melody unfolding perfectly and beautifully.
 
Wearing a Boston Red Sox T-shirt, Paisley at one point altered a song lyric to bash the Yankees, which went over well with the crowd. He was also a hit with the ladies in the audience. They screamed when he played songs like "The World" from 2005's "Time Well Wasted" CD, where he made the most of his handsome voice as it crooned the swooning lyrics and his guitar playing diversified into quick runs of sweet high notes. It was not a coincidence that he introduced the song with some lines from "If You Like It, Better Put A Ring On It" before a segue from "The World" into a few line from "Walk The Line."
 
Paisley wins the ladies over with his humorous view of male-female relations. His take on the Mar-Venus theme surfaces in "I'm Still A Guy," with its not so subtle points like when he and his girl see a deer, she sees Bambi while he sees antlers hanging on his wall. It's his willingness to own up to these gender differences unapologetically but with a nod to the female perspective that endears him to his female fans. How else can "I'm Still A Guy" go over with them as big as "She's Everything"?
 
The only ode to last year's instrumental CD "Play" was a jam during which a Paisley superhero cartoon played on the video screen overhead. This gave the crowd a glimpse into how well Paisley and his band can play their instruments. Unfortunately, he didn't do any more instrumentals or jam on his well known pieces.   He could still a lot more to emphasize his technique.
 
Paisley's other highlights included "Letter To Me," a poignant song for the youth in his crowd, augmented by Paisley's high school photos on the huge video screen, and his encore "Alcohol," a song that comes across at first like another humor song but which also carries a message. His song about a pleasant afterlife "When I Get Where I'm Going" was another slow song he tackled with aplomb, thanks to his husky voice and his sensational picking technique. His video backdrop showed some of the greats who have gone and come, eliciting cheers with visuals of Johnny Cash, Elvis Presley, James Brown, and Don Knotts and Ronald Reagan.
 
Second opening act Dierks Bentley hit it off with the crowd from his opening number, "Sideways." The stomping beat continued through his set with sustained momentum, his string of hits resonating with the crowd. Jimmy Wayne played his 30 minute set before I had a chance to finish my Italian sausage and get to the seats, but he sounded good from the concession stand I was at. There was already a good chunk of crowd seated and they seemed to really like him. Bentley and Wayne appear at the end of the show to sing backing vocals on the encore number "Alcohol." The two opening men were having a ball up there, taking people's digital cameras and snapping shots of Paisley in action. The American Saturday Night show was a lot of fun and a lot of great entertainment, and the whole tour is off to a promising start.
"Bill Copeland; Guy Who Writes Things About Bands"
By Bill Copeland – cwritebill@aol.com