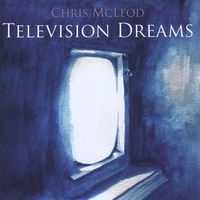 Chris McLeod is a man with an acoustic guitar and a broken heart. His album Television Dreams is a love letter to the one who got away. It's very simple and honest, with McLeod playing acoustic guitar chords and singing words that could either be from a letter or a diary.
The first track, "Final Day," has a sound very reminiscent of Relient K. Every line rhymes, which gives the lyrics a sweet touch. And while it certainly isn't a happy song, it starts on an uplifting note: "Today will be my final day/Of living that old dirty way."
Switching to the chorus, it becomes a different song. The chords, melody, and wordiness make it a little harsher than the sweet rhyming melody of the verses.
The bridge is soft again, with the lyric "I see you in everything I do." While it begins as a sort of anthem of self-empowerment, it fades into a love letter.
The love letter theme picks up in the second song, "Christmas Song." McLeod promises to wait for whoever it is who has his heart. All he wants for Christmas is "clarity and you," just one of many references to the love he has evidently lost. It's very honest, emotional, and stripped, just like one of Dashboard Confessional's acoustic numbers.
"Julian" takes a different turn musically, as McLeod's accompaniment is a keyboard and an electronic drum beat rather than an acoustic guitar. The lyrics are nothing I haven't heard before, but the idea that it's a 50-minute love letter makes it very sweet. It's very conversational. Maybe it's what he wishes he could have said before he lost his love.
One of the strongest tracks is "Lasso the Moon," which switches back to the acoustic guitar format, only it's a plucked pattern rather than a strummed one. Featuring guitar, banjo, and McLeod's voice, it's more uplifting and incredibly heartfelt. This sounds more like a date than heartbreak, as he says he'll lasso the moon if she wants him to and he'll do whatever it takes to make her happy.
Chris McLeod is an incredibly sensitive guy who will do whatever he can to keep the love alive. It's heartbreaking to listen to someone who obviously had something so beautiful and lost it. Whoever it was who broke his heart, please listen to this album and take him back.
Review By: Valerie Williams
[Rating: 3/5]