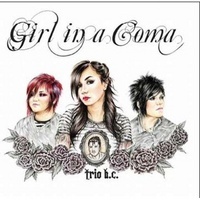 Everything's bigger in Texas. So it's no wonder that Girl in a Coma has big influences, a big resume, and a big sound. The girls behind the band got together in junior high and played their first gigs in high school, and now they've released their second album, Trio B.C., with tours with Cyndi Lauper and Morrissey under their belts.
Singer Nina Diaz, who was just 12 when the band took shape, possesses a very distinctive voice that sets the music apart from other girl rock. Some of the songs on the album, particularly opening track "B.B.," are comparable to some of KT Tunstall's rockier songs, and Diaz has a similar vocal quality to Tunstall.
Hailing from San Antonio, it's no surprise that Trio B.C. features some Mexican influences. The intro to "B.B." features a guitar solo that is very much reminiscent of musical styles south of the border, which segues into a strummed minor chord progression that maintains the same influence. Another obvious example of the foreign influence is "Van Cerca," the band's first all-Spanish track.
Songs like "Vino" are proof that this band sounds like nothing else out there today. The harmonies throughout the song set it apart from even the other tracks on the album.
The girls switch to something a little more traditional and upbeat with "In the Day," which has a repetitive hook that is also very addictive. This song also uses harmonies, although not in quite the same way as in "Vino." The harmonies are not featured as prominently, although they do add depth to the music.
One of the most interesting songs is "El Monte," which has a doo-wop feel. It sounds like something that could be played at a sock hop. Even the lyrics are more upbeat and 50s-like, featuring lines such as, "And I do, I do, want to marry you."
Generally, Trio B.C. is a solid album. It's an enjoyable listen, and from the songs you can tell that these girls have depth and talent. It's refreshing and different and is influenced by so many genres that there's sure to be something for everyone.
Review By: Valerie Williams
[Rating: 4/5]