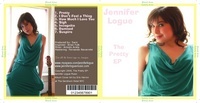 Jennifer Logue is bringing infectious attitude & sound on her new EP, Pretty.   The NYC-based singer/songwriter offers up a little rock/pop/folk mixed with country influences, but delivered in such a pleasant fashion.   Logue has seven new refreshing tracks that are so ready for human consumption.
Logue's upbeat and pretty persona is picked up on right away while listening to the record.   Her music seems to have a simple charm about it while also being full of zest & life.   She exudes a vibe of just fun, positive energy, but always keeps the music in check and 100% real.   Jennifer's emphatic, perky and suave vocal appeal can best be described as Reflective/Infectious Music for the Indie Generation.
The self-titled track, "Pretty", is actually about a guy she dated while in college.   This gentleman apparently made her feel so good about herself and "Pretty" no matter what.   Way to go buddy for inspiring this peppy-induced gem!!!   The song, "Damned", is about the ongoing tribulations women go through while in the workplace.   "Damned if you do, damned if you don't", said best by Logue while incorporating country/rock guitar strumming.   On the track, "Sigh", Logue brings it down a notch to more of a calm & reserved tone.   JL sings this number in such a soft and sweet manner, but combined with painfully sad & hurtful undertones.
One of the key tracks on the EP, in my opinion, is "Incognito" due to its deep impact toward the artist and listener.   This soul-searching song focuses on Jennifer Logue facing her fears and insecurities in life.   Preferring to be alone vs. being surrounded by the mob of people in the Big Apple is a pertinent theme on "Incognito".   JL says it best during the line, "Put on my shades and away I go", meaning that the glasses serve as a security blanket for her.   She can actually escape the sea of faces amongst her when she is wearing her special Super Woman/Jackie O style sunglasses.   How cool!   This is an extremely personal song, but can also be depicted as reaching out to the community.   People, I feel, can definitely relate to "Incognito" in some form or fashion.   Fun, powerful and even insightful at times= Jennifer Logue and her newest release, Pretty.
For more on the artist, Jennifer Logue SKOPE out www.myspace.com/jenniferlogue
By Jimmy Rae
[Rating: 4/5]