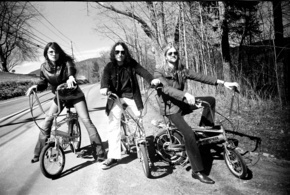 The three friends began long jam sessions that lasted for days, searching for a sound and feel that would develop into a breathing entity.   Super 400 takes the classic 'power trio' approach with their live show three instruments taking up the sonic space of an airplane hangar, rocking to the heavens but their vocal dynamics and spiritual synergy cause the sounds to swell to the bursting point.
The band has now become one of the most loyally followed rock bands in the Northeast, and the fan base is constantly growing; last year's national tours started a chain of bootleg recordings that have been traded and coveted around the world. Success at the Azkena Rock Festival in Spain spurred an international following that recently sold out over 20 shows across Europe. Their 2007 release, 3 And The Beast, received high praise from international press and could be found in rotation at over 250 radio stations in the US and Canada. Back home, the mayor of Troy gave Super 400 their own official holiday, 'Super 400 Day', February 25, to recognize the band's musical achievements as well as the love and support the city has shown for them.
Flashlight – "Flashlight" – STREAMING AUDIO:
ALBUM ARTWORK:
Each of their completely unique performances evokes the raw, euphoric essence of Rock and Roll. Their upcoming release, Sweet Fist, truly reflects the light and dark of this new millennium; it unravels the tales of this modern world with an analog tongue rarely heard in the digital age. Recorded on tape at legendary Ardent Studios in Memphis, TN, the latest album represents both a homage to their influences and an insightful progression of the dynamic power of Super 400.