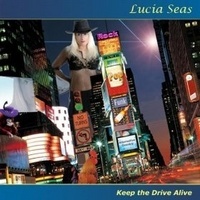 Lucia Seas is coming from the land of The Bronx Bombers with a new studio release titled Keep The Drive Alive.   The new record caters to ALL people and stresses positivity even during hard times.   Besides Keeping The Drive Alive, Keep The Hope Alive & Keep The Dreams Alive are also underlying themes on this album.   Seas' message to ALL of humanity is to simply never quit, hold your head high and always push full- steam-ahead, no matter what the circumstances are.  
With an uplifting spirit Lucia brings on the new album, she also has a distinct sound.   Mix Rock, Alternative, Country, Pop, and Dance with portions of Blues & Funk elements and you get Lucia Seas' newest creation.   The CD includes eight tracks with two bonus songs, The Best of Your Soul & The Best of Your Soul-Extended Dance Mix.   Different styles and genres of music unite as one here thanks in part to the artistry and motivation of Lucia Seas.  
Little bit of this and Little bit of that is the best way to sum up this record.   The album starts up with "Cash", a simply fun Country-Pop-Rock song with a Cold-Cold-Cash Groove.   "Upside Down" features a hip feel that signifies success, whether it be big or small.   On "Hello Someday", Lucia talks about seizing the moment through today's very own hand jive beat, which proceeds as a sped-up, clap-happy version.  
Lucia's vocal approach is more of a narrative style than actually singing the lyrics at times.   One thing I would mention is that Seas' comfort level seems to hang more on the side of the lower key range.   I would have loved to hear Lucia Seas take more chances with melodies and pitches by way of experimenting with her voice.   The partial-monotone, vocal approach even came across as subtle monotony during certain glimpses of the record.   Hearing the highs, lows and everything else in between come together would have made for a much more intriguing and stimulating listening experience overall.  
For more on Lucia Seas and Keep The Drive Alive, SKOPE out www.luciaseas.com.   It is worth noting that Lucia Seas had the chance to work with renowned engineer/producer, Matt Noble while recording this record.   Noble has had the pleasure of working with a number of talented artists such as: Shontelle, Rihanna, Average White Band and even Rod Stewart.  
By Jimmy Rae
[Rating: 2.5/5]