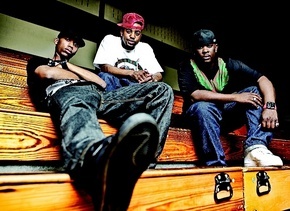 It's that time of year again for fun in the sun and great music. With great music there always a great dance. For the three members of Fast Life Youngstaz aka F.L.Y., the phenomenon of "Swag Surfin'" has been a straight shot to stardom.
The new dance "Swag Surfin'" has taken the south by storm; riding the wave with smooth moves.   Newly-signed to Def Jam Recordings, F.L.Y. has completed its debut album, JAMBOREE, which will arrive June 23rd.
Learn the new dance of the summer (Be Patient):
Music Video:
EPK:
After releasing "Swag Surfin'" in the late summer of 2008, the Fast Life Youngstaz melodic sing-song style started to burn like wildfire throughout the Southern United States. It didn't take long before Def Jam president L.A. Reid caught wind of the fresh new group and invited the guys to perform live for him in New York City. Although the guys had only been a group for close to two years, they were already performed numerous times in and around Atlanta.