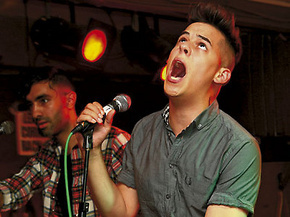 Esser, a 23 year old UK native, created an album's worth of forward-thinking, explosively catchy electronic pop songs in his bedroom.   Braveface, with no label or marketing behind it, incited the Kaiser Chiefs to bring him on a sold out arena tour as their opening act, motivated Cee-Lo to enlist Esser to do production on his upcoming solo record and it caught the attention of legend Don Letts who recently performed with Esser on stage in London.
Check out the video for "Headlock":
[youtube HHQCOkSGnKs nolink]
Braveface is out on August 11th on Chocolate Industries.