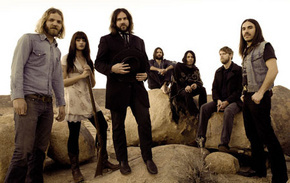 Spindrift will release The Legend Of God's Gun July 21st on Tee Pee Records.
Mixing the dusty, cinematic soundscapes of old spaghetti-western films with the mind-expanding Psych Rock of modern practitioners like The Dandy Warhols and Brian Jonestown Massacre (not to mention drone forefathers The Velvet Underground), L.A.'s Spindrift makes music that sounds like what one would hear while tripping in the desert on a vision quest.
MP3: "The Legend Of God's Gun":
Both haunting and hallucinogenic, "The Legend of God's Gun" soundtrack takes the listener on a cosmic journey through the desert as a preacher-turned-gunslinger sets out for vengeance.
The Legend Of God's Gun Tracklisting:
1. In The Beginning…
2. Titoli
3. The Legend Of God's Gun
4. Conversation With A Gun
5. Preacher's Theme
6. The New West (instrumental)
7. Speak To The Wind
8. Organ Fugue In Dm Op 42
9. Burn The Church
10. Greenhorn's Introduction
11. Girlz Booze and Gunz
12. Blessing The Bullets
13. The Scorpion's Venom
14. Indian Run