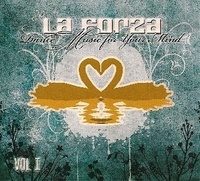 La Forza is an instrumental duo made up of Divina Klein and Douglas Mackar.   Klein is a classically trained pianist who has a certain expertise with electronic music while Mackar is an underground hip-hop producer with drums/percussion as his forte.   With completely different backgrounds in music, Divina and Douglas mesh it all together to create a fascinating set.   Instrumental meets Digital with the best of both worlds coming together to produce an interesting sound.
Dance Music for Your Mind is exactly that as it really makes you sit back and think.   With elements of Techno/Electronic music, La Forza is literally taking this style to another dimension.   I would call this record HYPENOTIC, which is a combo between being hype and hypnotic.   The dance craze sensation is there, but layered with a very hypnotic haze.   Klein's piano playing adds that elegant touch, so perhaps then we can call this Elegant Dance Music for the 21st Century.  
Their album is heavily drenched with Mackar's drumming beats, Klein's piano melodies along with dance rhythms and off-the-chain sound effects.   The visual that I get after listening to this record is that of a Dance club meets Dream world setting.   Their sound is quite original in the sense that it can make you get up and dance while at the same time put you in a trance-like state.   This well-recorded piece offers so much diversity with a distinctly colorful arrangement.   THINK……DANCE…..DREAM….SOAK IT ALL IN FOLKS!!!
The record begins with a very mystic vibe on "Vision Quest".   Next up is "Renewal", which offers up one kick-ass drum beat splurged together with a Space Odyssey-like groove.   You've heard out of this world, well this would be considered out of this galaxy!   Track eight, "Spiral Galaxy", also supplies a futuristic effect, which is live and jumpin' in the beginning but then fades to a more calm/reserved tone.   "Fountain of Youth" has a more slowed-down pace, but with International appeal introducing an exotic, Eastern mood.   Song 10, "Dream Within A Dream", portrays a majestic/magical place where there are no worries.   You even get the peaceful chirping of birds at the end making for a relaxing tune–maybe even great music for meditation.   La Forza ends on key with a wonderfully soothing piano solo by Divina Klein.  
For more on La Forza and their new spiritual being that is Dance Music for Your Mind Vol. 1, SKOPE out www.laforza.com.
By Jimmy Rae
[Rating: 3/5]