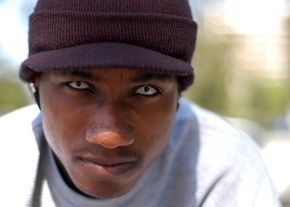 Ruthless Records is not letting any recession get them down. Their newest signee is 20 year old emcee known as, Hopsin. Hopsin is coming straight out the San Fernando Valley in California and he has alot he needs to get off his chest. Hopsin has been busy locked down is the studio creating his debut album, 'Gazing In The Moonlight.' We also got the new video "Pans In The Kitchen" so you can hear and see what kind of movement Hopsin is bringing.
Stoli: How long were you grinding it out before landing your deal at Ruthless Records?
Hopsin: For 7 years straight.
 
Stoli: What is the biggest difference to you as an emcee now that you have the deal?
Hopsin: The difference is these lil street rapper dudes i know finally listen to me when i tell them i know what im talking about when it comes to music.
 
Stoli: With so many emcees and musicians out there what did you do to help set yourself apart?
 
Hopsin: I wear white contacts, keep my music real, raw and i dont care to touch any topic that my personal life deals with.
 
Stoli: How did growing up in San Fernando Valley, CA help to shape you as a man & a lyricist today?
Hopsin: Well i was always too proper to hang around with the black crowd and too grimey to hang around the white crowd. so that left me in my own world. i was unable to be brainwashed by 1 specific stereo type. I developed a 1 in a billion mindstate that allows me to be who i am today.
"Pans":
[youtube t0RuslDrbzE nolink]  
Stoli: What do you feel that hip hop is missing that Hopsin can help bring back?
Hopsin: Its missing real creativity, raw lyrics and originality.
 
Stoli: Where do you go mentally or physically to get inspiration to write & create music?
Hopsin: I just zone out in my basement. I love it in there because all the lights are dark blue so the moment you walk into it you just feel like your in a mysterious dark world.
 
Stoli: If you were not doing music what do you think you would be doing?
Hopsin: I would be doing animation and voice overs for cartoons and movies.
 
Stoli: When can fans pick up your new album, 'Gazing At The Moonlight' and where did you record that?
Hopsin: They can pick up the album sometime during this summer. I recorded and produced the whole album in my basement.
 
Stoli: As an emcee are you concerned with album sales or do you like to put it out and see what happens?
Hopsin: I'm a little bit of both. i would never just put an album out there just to see what happens because thats how you F*** things up and wind up not selling anything at all. you gotta have some type of direction when your doing something big that involes other peoples money, time and effort, but overall i dont care how much i sell aslong as my music is heard.
Stoli: If 50 Cent was going to beef with you, would you return fire or let it go?
 
Hopsin: Im not sure because that guy is very powerful behind the scenes of this music industry and i wouldnt want him to pay off my distrubitor on the low just so they could shelf me and never put me out. but if was just on a lyrical battle then i see no harm in following through with it.
 
Stoli: How did you come up with the concept for the track, "Sexy Cyber?"
Hopsin: I have met girls off of the internet before who were eager to meet me and i always thought to myself   "what if i was a psycho killer who was lying to   them?" so i made a song about a true journey i have had with one girl i met online except on the song i turned around the tgi friday scene and made it into something different that was very possible. Girls need to stop being so easy these days, haha.
 
Stoli: What can we get ready for from Hopsin over the next few months?
Hopsin: You can get ready for what the world is not capable of getting ready for…..
 
www.myspace.com/hopsin