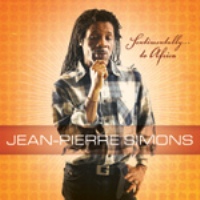 The multi-cultural and multi-dimensional artist known as Jean-Pierre Simons brings us one diverse piece of work.   The title track "Sentimentally…To Africa" brings it all back to Simons' roots as a young man growing up in Cameroon.   He says during the song, "Everything is bringing me back to Africa" and you really feel his passion and love for his homeland.   This singer/songwriter has a lot to offer on this record such as: six songs sung in English and seven in French.   Simons has also lived in Paris for part of his life and now presides in Oakland, California.   Living in different parts of the world and being able to experience and live by so many cultures makes Jean-Pierre a unique musician.  
The record resonates with an abundance of sound and styles.   You hear African, Latin, European, American and even island-sounding sections throughout the album.   The record is full of color and life along with such a worldly touch to it all.   Jean-Pierre is pretty much taking you on a journey throughout the world by way of his music.   The overall effect is just a lively and vibrant feel that will take over your senses.   The joy and passion that Simons sings with is taken in loud and clear.   You actually hear a fun and upbeat spirit that is being evoked by Jean-Pierre Simons.   The end result= feeling of happiness, enjoyment and satisfaction by way of the powerful and yet positive messages being portrayed.
I can't overlook the incredible backing instrumentalists along with the tremendous rhythm and horn sections.   The heart and soul of this album is the Afro-Pop and rhythmic sensation known as Makossa-Funk.   The musicianship and arrangements are just spot on and seriously leave a good taste in your mouth.   Simons and the entire band section come together like John, Paul, Ringo and George.   The Cameroon native and his accompanying band-mates offer something special on Sentimentally…To Africa.   The special formula works and is able to cross cultural boundaries by way of music.  
The only drawback is the fact that seven tracks are sung in French.   Being as I don't speak French, it was hard for me to grasp the true meaning behind each song.   Honestly though, the entire feel and sound of the record made up for that fact.   Simons' soul was heard in a big way, no matter what language it may have been in.
For more on Jean-Pierre Simons and Sentimentally…To Africa, SKOPE out www.jeanpierresimons.com.  
By Jimmy Rae
[Rating: 3.5/5]