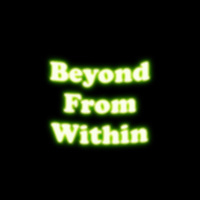 The record industry has without a doubt become an industry in flux. The standard formula for making a record, marketing that product and reaping the benefits of its sale still apply, it's just that these days it isn't the only formula out there. Steve Andrews, the one-man entity behind Pennsylvania's Beyond From Within, is testament that today's "do-it-yourselfer" has a place among the big record companies.
Andrew's self-titled debut resonates with so many facets and pays homage to so many influences it's hard to list them all: from New Wave synth to effects-laden guitar chimes to thinking man's lyrics. Andrew's strongest command is clearly his vocal capacity (he does sing with a Greek Orthodox Chant Choir), though at times it gets lost behind the myriad of played, looped and programmed soundscapes. Album standout "Seven Strangers" evokes the poetic lyrical content reminiscent of Yes, Rush or even Styx a la The Grand Illusion. Musically, the track features spot-on acoustic strums, the right crescendos and decrescendos and certainly sounds like more music than one man should be able to pull off. "Sidewalk Songs" perhaps features Andrew's musical prowess best; steady acoustic guitar pickings, clever time changes and the height and depth of his vocal range. Finally, "Forever Road–Lonely Penny" features Andrew's steady, ubiquitous acoustic strums backed by the aforementioned effects pedal-laden guitar work and his
trademark diverse lyrical delivery. It is perhaps the "busiest" track on the album.
As a whole, there is a clear diggable amateurishness to the album, common among self-made DIY records. Andrews has chosen a "path less traveled" approach to his songwriting and each track is earmarked with moments of pure talent. From a start to finish listen, it seems as if his ambition (which is certainly lofty) may perhaps be more music than one artist can successfully play to its full potential, though kudos are in order for the attempt. A backing band would add that raw, organic edge that would send all nine tracks from soaring just above the clouds to absolute "skies the limit."                
Reviewed By: Chris West
[Rating: 3/5]