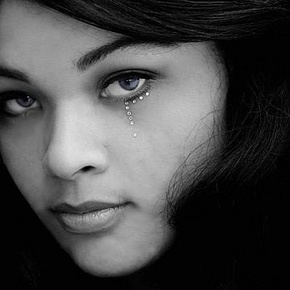 So I was listening to Skope Radio as I always do when I am working. On comes this song and the voice just took over me. I saw it was an artist named, Eye'z. Her voice is like nothing I have heard before and I just had to learn more. I set up an interview and I found a young vocalist that is talented, mysterious, confident, and engaging. I have included the MP3 of her single "Dedicated" that you just got to hear.
Stoli: You have a sad story on the homepage of your website. Is that a true story?
Eyez: Yes it is.
Stoli: At what age did you realize that you wanted to do music full time?
Eyez: From the moment I heard music.
Stoli: How much of your real life do you express through your lyrics?
Eyez: Every lyric and every note.
"Silk Lounge" MP3:
Stoli: I really like your song for "Silk Lounge." What is the meaning behind that track?
Eyez: lmao! The song is about how I met younge age at the silk road lounge, became friends and got discovered.
Stoli: You do alot of promotions on the Internet. What have you found to be most effective in reaching new fans?
Eyez: Honestly, Myspace. It still works.
Stoli: Your looks certainly benefit you. Do you feel that female artists are expected to be pretty & talented?
Eyez: I dont feel that they are expected to be pretty so much as we are expected to be sexy.
Stoli: When you are not making music what do you like to do on your time off?
 
Eyez: Promoting my music.
Stoli: What can readers expect from you in regards to new music coming soon?
Eyez: Expect that when you listen or buy my new song that when you close your Eye'z you will fall asleep for almost 3 min and in your dream your gonna be holding a very nice diamond in your hand, that diamond came from my heart. And it's your now.
Stoli: If you could have one hip hop emcee featured on your track who would that be?
Eyez: Eminem
Stoli: What are your goals for 2009 & what are you looking to accomplish with your music?
Eyez: To have a platinum selling single.
www.thelovelyeyez.com
www.myspace.com/eyemsoeyeze