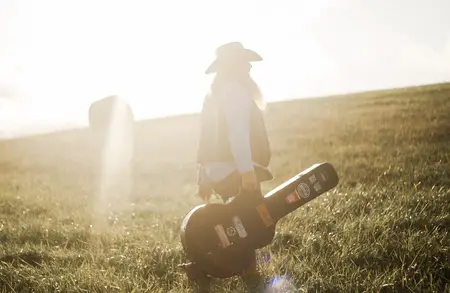 In every small corner of America there seem to be bits of magic, just hiding out. Sometimes cooing in a warehouse loading dock, sometimes in a tiny studio apartment in a big city. For his part, Appalachian singer-songwriter Ashley Best howls out his magic from his tractor, puttering around his farm in tiny Cadiz, OH. That farm is the kind of space a voice and mind like his needs to transform experience into expression. Because, boy, has he had his experiences.
Raised in the bucolic surrounds of the Ohio River Valley amongst a musical family of coal miners, Best tuned in early on to the likes of Dwight Yoakam, Buck Owens, and Marty Stuart—storytellers with that Bakersfield sound that somehow makes us all feel at home. Writing songs from age 16 onwards, his life took a sudden turn with the death of his first wife at age 28, and his songwriting took on a more therapeutic role. Eventually, struggles with addiction sunk him into a time where it didn't look like he'd pick up his six-string and pen again. But after drying out, working hard on the farm, and remarrying, Best is now in what can only be called a creative Renaissance—writing songs with the gentleness of his 16-year-old self, but with the wisdom that only a life-weary warrior can convey.
After the release of his 2022 album Something, Best is now offloading his catalog of songs from the past, while writing new inspirations from his tractor chair. Be sure to check his tour schedule for a special night of singing and songwriting with this authentic, homespun artist. The Best is yet to come.
If you're just getting to know Ashley Best, you might as well start with his recent single from 2022's Something. "You Make Me" is Best's heartstring-tugging ballad to his wife. Launching off with a big-sky guitar riff, Best's bear-hug of a voice blows through like a cool breeze as he showers his love with praise. This song is a full-on, windows-down Sunday drive with your number one, wrapped up into a sweet four minutes.
If you're needing a second dose of that medicine "You Make Me" offers, check out the music video directed by Zak Neese of Brass Lens Media. Set in the dreamy dells of Best's Ohio River Valley homeland, Neese captures the magic of a truly golden hour shared between Best and his lover. As the sunlight slowly fades behind them, the light in their eyes grows brighter for one another. Get swept away by the pure love conveyed through the gravelly voice of this resilient soldier.
Follow Ashley Best
https://ashleybestcountrymusic.com/
https://www.facebook.com/ashbestmusic
https://www.instagram.com/ashleybestmusic/
https://www.tiktok.com/@ashleybestmusic