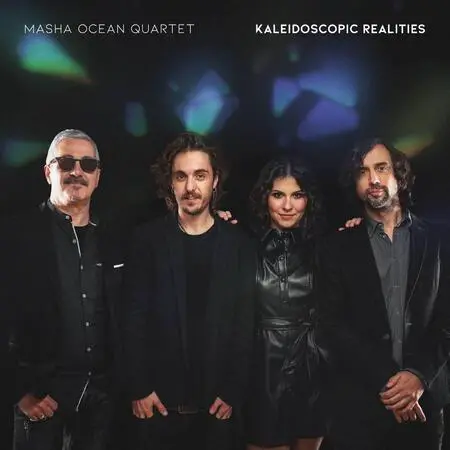 Forget what you thought you knew about genre.
Masha Ocean Quartet are pulling influence from every stretch of the globe on their debut album Kaleidoscopic Realities. Releasing 10/11/23, the project is as diverse as the band behind it. The 9-track project takes listeners through the forefront of modern jazz in English, Russian, and Spanish.
The album's lead single Tolox, released earlier this year to global airplay and praise from reviewers who described it as a "wonderfully jazzy, upbeat and soulful infusion of Spanish lyrics with extended saxophone solos – certain to get any listener off their feet." (Music Crowns).
The rest of the album conjures similar energies, albeit from different genres and languages. Kaleidoscopic Realities sees the quartet experiment across jazz, bossa-nova, cool jazz, modern jazz, blues, bebop, avant-garde hip-hop, classical, and electronic music. From its cool opening rousing track Stormy Weather to the more subdued piano and vocal led closing track That Night It Was Lightly Raining that closes the album, there is something for everyone across the Kaleidoscopic Realities.
The band is led by the Spain-based musician Masha Ocean, well-regarded for her contributions to jazz music. Notably, she secured victory in the International Jazz Vocal Competition 2017 and secured the second position in the Ill Competition of Young Jazz Talents, Femina Jazz 2021.
Accompanying Masha are Francis Posé, a highly acclaimed Spanish double bassist with collaborations including Jorge Pardo and Perico Sambeat. The quartet is rounded out by a selection of prominent figures from the contemporary Spanish jazz landscape, including Isaac Pascual, a pianist, composer, and arranger who contributed significantly to the album's composition, and the exceptional drummer Ramón López.
Also on some tracks of the album is the renowned musician and former guitarist for Amy Winehouse; , Robin Banerjee plus Daniel Torres the celebrated saxophonist credited with the arrangement of 'Tolox'; and Felix Rossy, a skilled trumpet player who collaborated with Torres on the creation of Tolox.
Kaleidoscopic Realities releases across all platforms 10/11/23.
YouTube: https://www.youtube.com/channel/UCrtw1P1wpZ_pEcT1MzTLBbg
Facebook: https://www.facebook.com/mashaocean/
Instagram: https://www.instagram.com/masha.ocean/
Website: https://www.mashaocean.com/
Masha Ocean: https://open.spotify.com/artist/1lqWB8vrdkuJqufBvirIHe
Masha Ocean Quartet: https://open.spotify.com/artist/3I1sK3Im1fI977jGXYjwbE