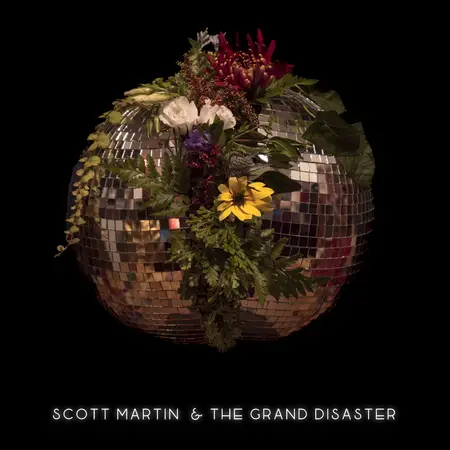 New York City is home to rock 'n roll guitarist and songwriter Scott Martin. Martin was a member of the electronic rock group, Bulletproof Messenger before deciding to pave his own path in the music industry. His new album Scott Martin & The Grand Disaster released on June 9th, 2023, is anything but a disaster when it comes to musical talent.
The first track on the album is "Head Over Heels" –an upbeat yet intimate song that talks of romance and being in love. Martin talks of finding someone that makes him want to fall in love. Some of the heartfelt lyrics include, "I just want to hold you until time disappears" and "Now I'm head over heels/This is all I want to feel." There is no one quite like this person as they are an "angel straight from heaven above." The catchy melody and chorus of this song will have you singing it out loud in no time. An electrifying start that sets the tone for the rest of the album.
The next song on the album is "Rock N' Roll Heart." It further delves into the idea of love and romance with lines like, "Set my soul on fire/Sound all the alarms/But baby please don't break my rock n' roll heart." Everything from the drum beat to the pleading vocals and words will make you feel nostalgic for old rock n' roll tunes.
Moving along, a soft piano melody begins to play at the start of "Mexico" before transitioning to an incredible electric guitar solo. This is the longest track on the album, and it is full of surprises that will leave listeners in awe. There is a buildup of instrumentals until the chorus hits each time. Additionally, this song puts a lot of focus on Martin's singing during the quieter parts in attempt to isolate his voice. At one point we hear a layering effect using backing vocals. The song ends with an infectious electric guitar solo before fading out. A truly memorable song on the album.
"Jet Black Heart" is a song that touches on themes of heartbreak and pain and not opening yourself up to anyone else after a breakup. It shows us another side to Matin and makes the album more meaningful. It is the perfect segue into the following song "Old New York" where we hear Martin recounting a tale of a lost love. In this song, 'missing old New York' refers to missing a previous relationship.
https://www.thegranddisaster.com/
The entire album thus far has that old school rock n' roll vibe but for the song "SLO", Martin demonstrates that he can sing and create folk music as well. This more mellow song discusses an admiration and love for someone. We see this with "I know a girl from a town called SLO/I'm crazy about her/But I don't think she knows/That she has my whole heart/When we lay there in the dark." There are so many more lyrics to note in this song. Descriptions of a girl and her personality; of not being able to forget her since they met. The mixture of acoustic and electric guitar gives this song such a sweet and comforting feel.
The final song on the album is "Places." There is no other way to describe this one but a perfect conclusion to a nostalgic rock n' roll record. Instead of it feeling like the end, it feels like the beginning. In this motivational tune Martin belts, "Singin' oh oh oh oh/All the places you will go" several times. There are so many instrumental elements in the background as this mantra is repeated. What a great way to send us off.
For those that claim rock 'n roll is dying, Scott Martin certainly does his best to prove them wrong with his new album. The title of the album is a metaphor for his life. It is him claiming that his journey throughout the years is one 'Grand Disaster' but that he wouldn't be where he is today without those experiences. Through the catchy melodies and clever lyricism of this album, we get to see him reflect on his life and push forward with high hopes for the future. Whether you're feeling nostalgic for the past or need some motivation to keep moving forward, this album has something for everyone.
Reviewed by Carmen Zdanis