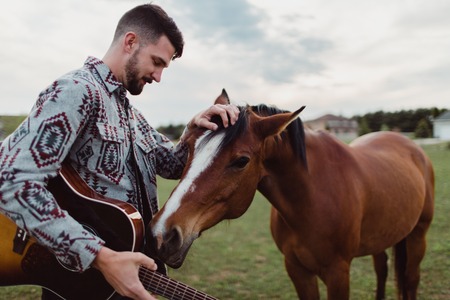 Matthew Thomas, an emerging Americana singer-songwriter, has crafted a musical journey that's as authentic as it is emotionally charged. Leaving behind the trappings of suburban youth and a full-time job in 2022, Thomas ventured to the outskirts of Indianapolis with his wife and dog, with nothing but his guitar and his dreams in tow.
This bold leap into the unknown marked the beginning of a new chapter in his musical career. Having fronted nationally touring pop-rock bands and worked with Grammy-winning producers, he took a courageous step towards discovering his own musical identity.
Now, in 2023, Matthew Thomas is ready to release 'Mustangs & Thoroughbreds, Vol. 2,' a continuation of his musical odyssey. At the core of this EP lies the poignant single, 'The Waiting Room.' Set against the backdrop of rural America, this track is a bittersweet love song that encapsulates the essence of folk and Americana. With pop-woven melodies, enchanting acoustics, and resonating lyricism, 'The Waiting Room' is a testament to a singer-songwriter who knows precisely what he wants to convey and how to convey it.
For those who resonate with artists like Drew Holcomb & The Neighbours, Ruston Kelly, and Jon Foreman, Matthew Thomas's 'The Waiting Room' shines brightly. It's a song born from personal experiences, carrying a profound message of embracing life's challenges and finding solace in the love and togetherness that sustain us through the toughest times. In 'The Waiting Room,' Matthew Thomas has not only found his voice but also gifted us a piece of his heart and soul. Check it out now.