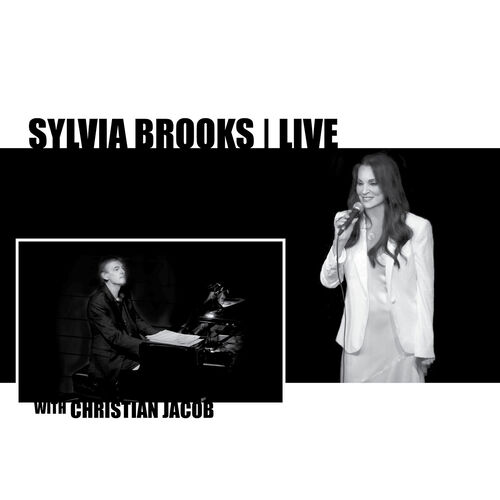 This live jazz album from Sylvia Brooks was made with help from pianist Christian Jacob, who is also her musical director. It's an album of mostly familiar vocal standards and features Brooks strong singing voice.
While Brooks shines on these many times well known songs, her live group also covers Jacobs' composition "The Red Pig Flew Up The hill." She also provided the lyrics to "The Flea Markets of Paris." This latter one, and "Holding Back Tears," are taken from Signature, Brooks' 2022 album that focused on her original music. Yes, she knows her way around many American standard songs, but she also has added her personal songwriting signature to this long tradition.
This live audience was obviously an inspiration to Brooks. That immediate interaction with fans brings her singing (as well as the band's playing) to a whole new level. Let's not forget Jacob's contribution, however. He really sounds fantastic on "The Red Pig Flew Up The Hill," which also includes a smokin' sax solo. This, by the way, is true jazz. It's not, say, Dave Koz. These aren't pop and R&B sounds parading as jazz. No, this is the real deal, and it's such a delight to hear contemporary jazz with so much respect for the style's traditions. Even the bass solo on "The Red Pig Flew Up The Hill" is handled by an acoustic bassist. The listener can just picture a musician standing beside this large instrument playing these bouncing bass notes. A joy to behold, indeed.
With "The Flea Markets Of Paris," Brooks gives us a gentle, delightful song set in a specific place. It has an old world feel to it, which makes it come off like a song out of time. When you consider the rich jazz traditions of France, the listener is magically transported to this historical locale. Here, as the shoppers shop, a jazz combo provides a distinct soundtrack.
These multiple standards are also worth mentioning. For instance, you might never know that "Cold Cold Heart" is not originally a jazz song but is instead a country song by Hank Williams. In Brooks' hands, though, it swings. Then with "Night & Day," Brooks takes these familiar words at a relatively contemplative pace. She closes the album with "Come Rain Or Shine." It's a smart way to end the album because she starts it off on the equally weather-ly note with "When The Sun Comes Out." Referencing weather has always been one of songwriters' favorite literary tools, and these two songs are two of the best examples of that.
With the recent death of Tony Bennett, the world lost one of the last of a generation of performers. It's a loss that truly stings. However, it's healing to hear a singer like Sylvia Brooks expressing her singing voice on a live recording. The world of great song interpretations is in good hands with artists like Brooks. Of course, it's made all the better because Brooks is also a talented songwriter. Jazz may not be all over the mainstream radio these days, but Sylvia Brooks Live with Christian Jacob proves the genre is very much alive and well.
-Dan MacIntosh