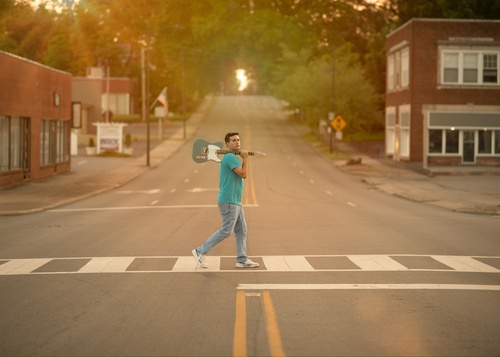 It's undeniable: the 1980s are having an intense, glorious, and influential revival in music and culture at large. Lucky for singer-songwriter Andrew X, '80s music is practically his first love and language. Andrew grew up in a small town in western Carolina. At an early age Andrew was schooled on the finer points of rock and roll by his dad, who was a hi-fi stereo enthusiast that blasted the likes of Fleetwood Mac, Genesis, and others on a regular basis. He also fell in love with pop music at an early age while hearing all the latest pop radio hits by Steve Winwood, Bryan Adams, and others while hanging around at his mother's beauty salon waiting for her to get off of work. It left an indelible afterglow on the budding artist. After many years of progressing in his guitar skills, singing, and song writing, Andrew formed the pop rock band Hot Vegas during the summer after his freshman year of college. Touring, writing, and recording with Hot Vegas, Andrew honed his craft while also getting involved in amateur boxing. Independent, skilled, and still yearning, he returned to his roots with his debut double-disc solo album Language of Love in 2009, followed by Young Hearts in 2015 that included romantic, feel-good vibes of the '80s. After the release of Young Hearts, Andrew took a hiatus from playing music to own and operate a competitive boxing gym for several years.
With his timing Andrew has been impeccable, nailing the '80s revival, yet completely organic. In this, it'd be a major mistake to assume Andrew X is aloof as an artist. Yes, his songs ooze the optimism of the 80s and just the right time, yet they come not from trend-hopping but a studied songwriter's consciousness of the lineage from which his heart's song has evolved. Dive deep on Andrew X through his impressive, cross-genre discography in anticipation of his new album Driving at Sunset—then pull out your Wayfarers and come and sing along during his upcoming tour.
With Driving at Sunset, Andrew X "set out to make an album that speaks to the power of passion… and evokes feelings of hope and encouragement" for "romantic[s] doing their best to navigate the complexities of life." His most recent single, "Whatever It Takes," showers listeners with exactly those sentiments. Leading off with an arpeggiator synth, Andrew coos out an expression of eternal hope springing from love—no matter the distance. Make sure you're at least out of the driveway with windows rolled down by the time the drums start to pound and guitars begin their screaming. This song reveals that the title of his upcoming album is not just an arbitrary name but an ideal listening condition for this masterclass in pop songwriting.
And everyone listening better be psychologically buckled up for the time-traveling dopamine hit that is the music video for "Whatever It Takes." Concepted around the gushing romanticism of classic '80s movies, the music video follows a budding romance between a young woman and her extraterrestrial lover. Juicy, ebullient, and meticulously executed by directors Luke Pilgrim and Brad Kennedy of Sozo Bear Films, it'll leave viewers wishing for an entire feature-length film tracked with Andrew X's nostalgic ear candy. And who says that won't happen? The journey, music, and spirit of Andrew X deserve nothing less.
Follow Andrew X:
https://andrewxmusic.com
https://www.youtube.com/andrewxmusic
https://www.facebook.com/andrewxmusic
https://twitter.com/andrewx
https://www.instagram.com/andrewxmusic/
https://www.tiktok.com/@andrewxmusic