Introduction
Oktoberfest, the world's largest beer festival held annually in Munich, Germany, is a celebration of Bavarian culture, beer, and camaraderie. Apart from the delicious brews and savory delicacies, one of the highlights of the event is the traditional attire worn by festival-goers. Dressing in the right Oktoberfest outfit not only pays homage to the festival's heritage but also adds to the overall festive spirit. In this article, we'll provide a detailed guide on what to wear on Oktoberfest for men, women, and kids, ensuring you're well-prepared to join in the revelry!
What to Wear on Oktoberfest: Men's Attire
Lederhosen: Embrace Tradition with Bavarian Shorts
For men attending Oktoberfest, the quintessential attire is the Lederhosen, which translates to "leather breeches" in English. These traditional lederhosen are typically made from high-quality leather and adorned with intricate embroidery. Pair your Lederhosen with a traditional checkered shirt and suspenders for an authentic look that will have you blending right in with the locals.
Bundhosen: An Alternative to Lederhosen
Bundhosen, also known as bund pants, are an alternative to lederhosen for those who prefer full-length trousers. They are made from the same durable leather material and feature embroidery, ensuring you maintain an authentic Bavarian appearance.
The Comfort and Style of Bundhosen
Bundhosen offer a more relaxed fit, making them a comfortable option for all-day wear. Whether you're dancing, enjoying the rides, or indulging in delicious Bavarian treats, bundhosen will keep you at ease without compromising on style.
Haferl Shoes: Stylish and Comfy Footwear
Complement your Lederhosen with Haferl shoes, a traditional type of footwear originating from the Alpine region. These shoes feature a rustic design with laces and are perfect for strolling around the festival grounds comfortably.
Trachten Jacket: Add Elegance to Your Outfit
To complete the traditional men's Oktoberfest outfit, opt for a Trachten jacket. These jackets come in various styles and colors and add an element of sophistication to your overall look.
Bavarian Hat: Top Off Your Look
Don't forget to don a Bavarian hat, such as a Tyrolean hat or a feathered alpine hat, to complete your Oktoberfest attire. These hats are not only stylish but also protect you from the elements while adding to the festive ambiance.
What to Wear on Oktoberfest: Women's Attire
Lederhosen for Women
Modern lederhosen for women come in various lengths, from knee-length to shorts, allowing them to choose a style that best suits their preferences. Whether it's a playful ensemble or an elegant one, these outfits ensure women look and feel fabulous at Oktoberfest.
Dirndl Dress: Exude Elegance and Grace
For women attending Oktoberfest, the quintessential outfit is the Dirndl dress. This traditional Bavarian dress consists of a bodice, blouse, full skirt, and apron. Dirndls come in a wide array of colors and patterns, allowing you to showcase your personal style while adhering to tradition.
Apron: Symbol of Relationship Status
The positioning of the apron knot can convey subtle messages about your relationship status. Tying the apron on your left side indicates you're single, while tying it on the right suggests you're taken. The center placement signifies that you are either undecided or a waitress.
Blouse: Opt for Puffed Sleeves
Pair your Dirndl dress with a blouse featuring puffed sleeves, which adds a touch of femininity and elegance to your outfit. Opt for a white or contrasting colored blouse that complements your dress.
Petticoat: Enhance the Dress's Volume
To achieve the classic fullness of the Dirndl skirt, wear a petticoat underneath. This undergarment enhances the volume of the skirt, giving your outfit a more traditional and polished appearance.
Dirndl Shoes: Choose Comfort and Style
Select comfortable yet stylish shoes to pair with your Dirndl dress. Closed-toe pumps or Mary Jane-style shoes are popular choices that will keep you comfortable throughout the festivities.
What to Wear on Oktoberfest: Kids' Attire
 Mini Lederhosen and Dirndls: Adorable Traditional Attire
Ensure your little ones are part of the Oktoberfest spirit by dressing them in mini versions of Lederhosen for boys and Dirndl dresses for girls. These pint-sized outfits will make them look irresistibly cute and ready to join in the festivities.
Comfortable Shoes: Supportive and Sturdy
For kids, it's essential to prioritize comfort when selecting footwear. Opt for supportive and sturdy shoes that will keep up with their active adventures during the festival.
 Festive Accessories: Complete the Look
Adorn your kids' outfits with festive accessories, such as small Bavarian hats, alpine-themed hairbands, or traditional necklaces. These little details will add charm and authenticity to their attire.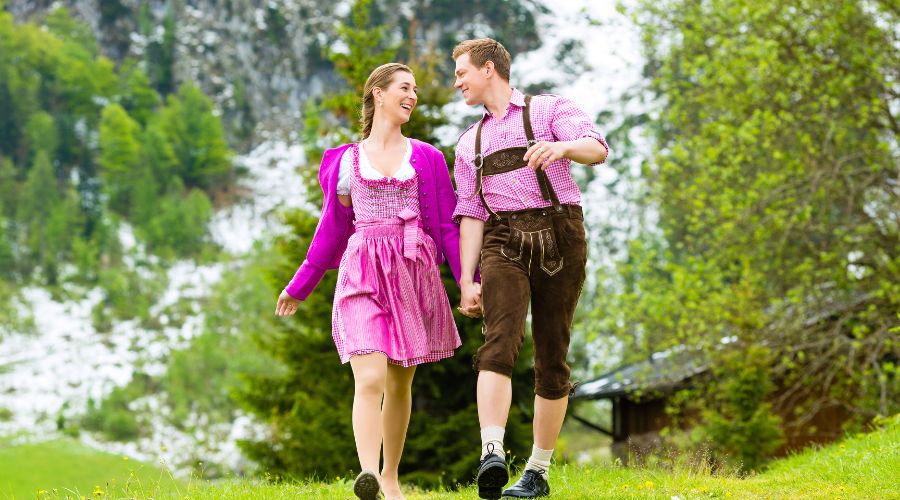 From Where To Buy Customized Lederhosen 
Bayerische Alpen: Customization for Your Unique Style
Bayerische Alpen (elederhosen.com) takes pride in offering an extensive collection of authentic Bavarian clothing, including lederhosen and bundhosen. As a brand that celebrates tradition, they also understand the importance of individuality.
The Personalized Touch of Customization

At Bayerische Alpen, customers have the freedom to customize their Oktoberfest attire . Whether it's selecting unique embroidery patterns, adjusting lengths, or choosing specific colors, customization allows individuals to create a one-of-a-kind outfit that perfectly reflects their personality.
A Commitment to Quality and Craftsmanship
Bayerische Alpen spares no effort in ensuring their garments are made with the highest standards of craftsmanship and quality materials. With attention to detail and passion for tradition, each piece embodies the essence of Oktoberfest.
Conclusion
Embrace the spirit of Oktoberfest with the perfect attire that showcases your appreciation for Bavarian culture and traditions. Lederhosen men and Trachten jackets exude a sense of tradition and style. Women can exude elegance and grace with the timeless Dirndl dress. Don't forget to dress up your little ones in adorable mini Lederhosen and Dirndls to involve them in the festivities.
Whether you choose traditional outfits or modern interpretations, the key is to enjoy the celebration while respecting the cultural heritage of Oktoberfest. Now that you're equipped with the knowledge of what to wear on Oktoberfest for men, women, and kids, you're ready to join the jubilant festivities and create unforgettable memories!
FAQ (Frequently Asked Question)
Q: Are traditional Oktoberfest outfits necessary, or can I wear modern clothes?
A: While traditional outfits add to the festive spirit and cultural significance of Oktoberfest, modern attire is also widely accepted. You can wear stylish clothes in Bavarian colors or motifs to show your appreciation for the festival's traditions while reflecting your personal style.
Q: Can I purchase Oktoberfest outfits online?
A: Yes, many online retailers offer a wide selection of traditional Bavarian attire for men, women, and kids. Make sure to check sizing charts and customer reviews to ensure a proper fit and high-quality garments.
Q: Are there any rules for wearing Dirndl dresses?
A: There are no strict rules, but keep in mind that the length of the Dirndl skirt can indicate your social status. Shorter skirts are more casual, while longer skirts are considered more formal. Feel free to express your individuality while respecting the festival's cultural norms.
Q: Are Lederhosen and Dirndls only for Oktoberfest?
A: While Lederhosen and Dirndls are synonymous with Oktoberfest, they are also worn at other traditional Bavarian events, weddings, and folk festivals throughout the year.
Q: Can I wear my Oktoberfest outfit multiple times?
A: Absolutely! Your Oktoberfest attire can be a cherished addition to your wardrobe, and you can wear it to other festive gatherings or themed parties to celebrate Bavarian culture.
Q: How can I clean and maintain my traditional Bavarian outfit?
A: Follow the care instructions provided by the manufacturer for your specific garment. Generally, it's best to hand wash Lederhosen, Dirndls, and aprons to preserve their quality and embroidery. Air-dry them to avoid shrinking or damaging the fabric.