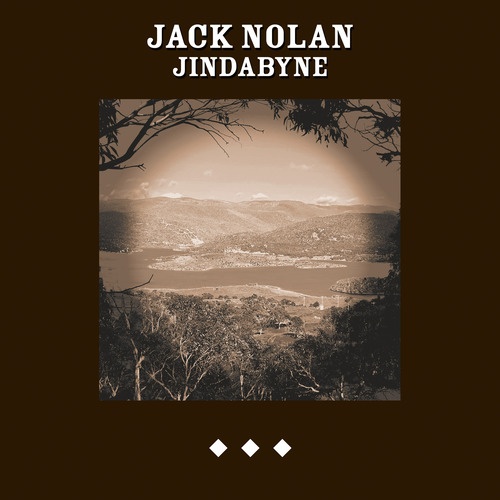 If you're anything like me, you'll likely need to look up the title to Jack Nolan's album, Jindabyne. If you haven't done so, I'll save you some trouble. 'Jindabyne' is a town in southeast New South Wales, Australia. It overlooks Lake Jindabyne near the snowy mountains. It's said to be a fine holiday spot, particularly during the winter months. Nolan is an Australian, who has been putting out albums sings the 1990s. For Australian music fans, Nolan was previously the front person for The Kelly Gang, which included Rick Grossman (formerly of The Divinyls and Hoodo Gurus) and Rob Hirst and Martin Rotsey, both of Midnight Oil. That's quite the all-star outfit! This latest effort also attracted some strong session players, which include guitarist Justin Weaver (The Chicks/Wynonna Judd), drummer Jimmy Paxson (Lindsey Buckingham/The Chicks/Ben Harper) and bassist Chris Autry (Josh Turner/Lee Anne Womack). And, of course, this musical team sounds fantastic throughout.
For an album top loaded with country music sidemen, however, this full-length doesn't sound particularly country. Instead, songs like "The Nobody Song" feature robust electric guitar rock and Nolan's somewhat dark hued singing voice. Nevertheless, "The Nobody Song" also features somewhat twangy guitar solos, both acoustic and electric. Maybe these players just couldn't help themselves. The album closes with "All the Ships in the Ocean." It's a soft inclusion, built around some especially lovely, folkish acoustic guitar picking. It also includes a nice slide guitar solo.
It took a few listens, but the singer Nolan often sounds like is another Australian, Robert Forster of The Go-Betweens. Like Forster, Nolan has a matter-of-fact vocal style, which many times sounds more like conversations than vocalizing. This is particularly true during the ruminative "All the Ships in the Ocean," where it feels a bit like Nolan is thinking out loud. This one is also reflective of the recent pandemic. On it, Nolan is looking at a world that has seemingly gone crazy. He's trying to make sense of it all. At one point he asks the question, "What's a nation?/Does anyone know?" When the world gets all weird, some of the questions that, at one time would have had easy answers, start to get overly complicated. We live in a world where many of the 'facts' we once took for granted, are many times questioned and debated. How the pandemic was handled was one of those times where the most unusual and unexpected questions were seriously considered. With this song, Nolan asks good, tough questions.
The album opens with a lovely, jangly tune titled "Dollar." Although it's relatively acoustic, it has the feel of a Hoodoo Gurus song. There's a bit of '60s rock vibes running through it, and for those that dearly love those old era songs, this one will likely touch you in just the right ways. "Reading Minds," however, is a much darker track. Reading minds is a conceptual act, at best. Sure, there are those that state convincingly that they read minds. But can they? Really? Nolan sounds quite suspicious of one that was "reading minds." It's an ominous, unsettling song.
Jack Nolan was forced to delay the recording of this album, due to the pandemic. However, after listening closely to it, one comes away convinced it was well worth the wait.
-Dan MacIntosh