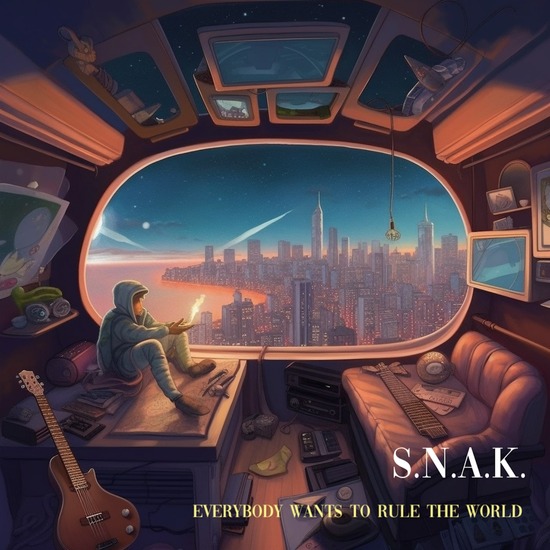 S.N.A.K. imbues Tears for Fears' classic "Everybody Wants to Rule the World" with a righteous amount of funk. They possess much dexterity, as the bass work embraces the nimble. Rhythms have a taut, jazz-like cadence. Neat little flourishes play off the original, and while it is evident that this is a cover, it is also apparent that they work hard to make it their own. Much of the sound demands to be played loud, for they have a living, breathing aspect to the entire track. A lovely interplay among the band helps to lend the song this sense of possibility, the same feeling that the original possesses.
Things start strong. Immediately the groove is set in this beautiful way. Angular guitar work sets the tenor for what follows. Well-balanced percussion adds to this sense of fragility. From small fragments, the theme becomes readily apparent. Everything works in unison. In a way, they touch upon the jazz guitar playing of Wes Montgomery as the themes radiate throughout, adding to the sense of intrinsic beauty. Nothing is held back, for they let the song build and build. Over the course of the piece, they offer a unique perspective, a fiery style that adds to the gracefulness. For the final stretch, it results in this big bloom of colors, one that lets the tension release ideally.
"Everybody Wants to Rule the World" shows off the uncanny ability of S.N.A.K. to create a lyrical instrumental piece without saying a single word.
S.N.A.K. Socials:
IG: https://www.instagram.com/s.n.a.k.official/?hl=en
TikTok: https://www.tiktok.com/@s.n.a.k.official
Marcelo Maccagnan Info
website: https://marcelomaccagnan.com/
Socials: https://www.instagram.com/marcelomaccagnan/?hl=en
Maxime Cholley Info
website: https://www.maximecholleymusic.com/
Socials: https://www.instagram.com/maxcholley/