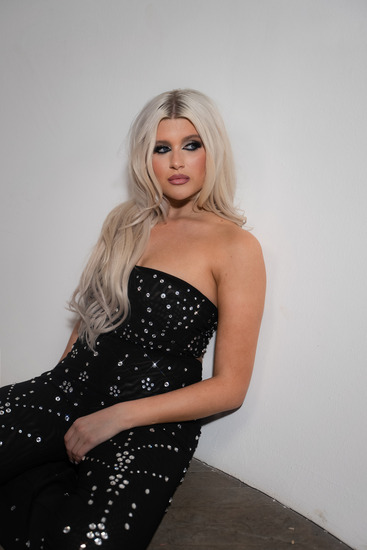 @skopemag news – friday – june 5, 2023 @ 12 pm est
https://www.facebook.com/SkopeMag/
https://twitter.com/skopemag
https://www.youtube.com/@skopetv2
https://www.instagram.com/skopemag/
APP – Apple iTunes –
https://itunes.apple.com/app/id1465224822?mt=8
@skopemag APP – Google / Android –
https://play.google.com/store/apps/details?id=hr.apps.n207414718
Support @skopemag –
https://www.paypal.com/donate/?hosted_button_id=3APKAKT8K6ETW
Moody Rocker from Diamond Lake
Diamond Lake creates cinematic music, powered by songs based on the collective unease in the modern world and the part technology plays in it. That's what you get when you take a visual artist, a filmmaker, and a software guru and make a rock band.
Poignant & Introspective Shimmering Pop Anthem "babyblue"
Based in Vancouver, Canada, Xana is an emerging pop powerhouse. Her command of pop music keeps her songwriting enthralling, as her blissful vocals glide across the most intimate storytelling and worldbuilding. It's her intoxicating vibrance that sets Xana apart, as she encompasses themes of LGBTQ romance and female empowerment through her own experiences across her flourishing repertoire.
Inhuman Condition Unleashes video for new Track "Panic Prayer"
Florida death metallers Inhuman Condition have released a music video for their new single "Panic Prayer". The title-track is available on all streaming services in addition to the band's bandcamp page, where preorders are now available.
German Heavy Instrumentalist BLACK7's Electrifying Single "Break Up" Unveiled, Leaving Listeners Begging for More
German heavy instrumental project BLACK7 has just unveiled the highly anticipated third single, "Break Up," along with an accompanying video from their forthcoming album, "The 2nd Chapter." This mesmerizing release showcases a mid-tempo track that kicks off with an infectious riff and builds up to a melodic climax, enhanced by the interplay of powerful guitars and orchestral violins. With its positive energy, "Break Up" captivates listeners, compelling them to groove along. The arrangement skillfully incorporates enough diversity to warrant repeated listens. Furthermore, this third offering stands on its own, showcasing a distinct identity that sets it apart from the previous two songs, while still embodying the unmistakable style that defines Black 7.
NEW video clip from KILLIGION ("Awakening My Demons" out from "Killigion" album)
Brent Jones hits #1 on Billboard! "Nothing Else Matters"
Grammy and Stellar Award winner Brent Jones' smash hit single "Nothing Else Matters" hit #1 on Billboard! "Nothing Else Matters" has truly become one of the breakout songs of the year, earning widespread critical acclaim, multiple award nominations with over 40 weeks cumulatively on Billboard and Mediabase.
"The past year has been such an exciting time for my career so for "Nothing Else Matters" to go #1 – what an honor!!
[Video Submission] Ricky Bats ft. Jail Hitta "That's A Fact"
CARCARIASS Drops Official Music Video For "Billions Of Suns"
"BILLIONS OF SUNS evokes a gigantic Intergalactic Empire and its Inquisition, which ensures that the immutable word of the Emperor-God is respected to the very ends of the universe and exterminates all opposition!"
DAVE & CENTRAL CEE DROP NEW EP 'SPLIT DECISION'
Born one day apart, with Central Cee's 25th birthday on Sunday 4th June and Dave's on Monday 5th June; 'Split Decision' arrives in time to celebrate the significant life milestone for both artists. The 4-track EP includes the previously released 'Sprinter' and three brand new tracks including 'Our 25th Birthday', a new instalment in Dave's fan-favourite birthday freestyles (My 19th Birthday and My 24th Birthday), which first appeared on the Game Over EP. Previous collaborator Kamal, who featured on Dave's single Mercury, also appears on track three of the project.
Music Submission: Kaden Frost
Introducing Kaden Frost, an up-and-coming Hip Hop Artist hailing from Salt Lake City, Utah. At 21 years old, Kaden has been producing and making music since he was just 13 years old. With a passion for creating captivating and relatable music, Kaden is on the rise to success. This year, he has plans to release some new and exciting singles that are sure to gain him a wider audience.
New video : Endemic Emerald '180th Grand Concourse' lifted from instrumental album 'Renegade Soul'
Producer Endemic Emerald has provided top-notch beats for many in the rap game over the years – notable names such as various members of the Boot Camp & Wu Tang camps, Tragedy Khadafi, Ill Bill, and Planet Asia. On 'Renegade Soul' he digs deep into his sounds to bring us his 1st instrumental album. The set features an array of soulful soundscapes, accompanied by a gritty undertone. The album moves through different moods, utilising a range of jazzy pianos, intense strings, and heavy basslines. Accompanied by soulful voices throughout a real edge is provided and makes 'Renegade soul' guaranteed head-nod material. The album will be available on 12″ Vinyl, Cassette & CD on June 30th, Via No Cure / Fat Beats / Ingrooves.
NYC's Computerwife Announces S/T Debut LP Out 8/4
Computerwife—the moniker of New York-based artist Addie Warncke—today announced her self-titled debut album will be released on August 4th, 2023, via Danger Collective Records. With her seamless blend of shoegaze, emo, and lo-fi noise pop, Computerwife speaks directly to the disquiet experienced by every 21st century digital girl with a tenuous grip on life and identity. The album's sound is captivating and nuanced, pushing the boundaries between analog and digital. "The main theme that ties this album together is an interest in the deep web and an attempt to combine existing media to make something new," she explains. Fuzzed-out lead single "Lexapro," released today, teeters between pop and shoegaze, and finds Warncke drawing inspiration from Sonic Youth and Alex G as she grapples with feelings of failure and stasis.
Psych Doom act Cavern Deep releases "Skeletal Wastes" track/video
Before it, an ancient war ground. It is vast and dreadful to behold. The last big battle of a dying civilization. The last gasping breath. The being makes its way through labyrinths of giant dead abominations and remnants of war machines since long put to sleep. Picking up pace. Slowly burning from inside with an ever-growing sense of meaning. It is the final solution. The retaliation of many. The faint glow in its veins extends to a cord. The hovering placenta is feeding it in a steady rhythm, preparing the being for its passing.
Video Premiere: Being Productive During Those Wasted Years with Cavern Deep's "Skeletal Wastes"
NCT'S TAEYONG RELEASES FIRST SOLO ALBUM "SHALALA"
The title track of the mini-album highlights TAEYONG's signature witty rap flow. The hip-hop track combines lively percussion and impactful drums that help deliver the song's key message: 'We can all shine wherever we are.'
BABY KEEM & KENDRICK LAMAR RELEASE "THE HILLBILLIES" ACROSS DSPS TODAY
THE OLD DEAD TREE release new music video
Aurora Dream Releases Full Length Album 'Rubit' to all major platforms
Miami-based instrumental progressive rock and math rock project, Aurora Dream, founded by Venezuelan guitarist and front man Daniel Morales, has just released their latest album RUBIT, a full 8-bit remix of their debut album RUBIX. This album remix, like their previous single release "Parallel 8its", was created in collaboration with the well-known YouTuber and 8-bit/video game music enthusiast, Kevin Weaver (KB3K).
Ethel Releases New Video For "Andromeda"
Today, young rising French singer Ethel has released the video for her ethereal single "Andromeda." The song which was released last year garnered fans in the critic and film world upon release and has now made its way to its television debut last night in the series premiere episode of the controversial HBO drama, The Idol.
Rising Country Artist Tyra Madison Unveils Emotionally Charged Single "Plead The 5th" – Available Now on All Streaming Platforms
Rising country artist Tyra Madison has released her new single, "Plead The 5th." The track is now available for streaming (here) on all major platforms, allowing fans to experience Tyra's exceptional vocals and storytelling abilities firsthand.
"Plead The 5th" highlights Tyra's storytelling prowess as she portrays the role of a mistreated significant other who endured the lasting impact of a tumultuous relationship spanning three years. When confronted by the police about her husband's whereabouts, Tyra skillfully exercises her right to remain silent, indicating her full awareness of the events surrounding his disappearance, or more accurately, the actions she took.
CHRISTIAN FRENCH RELEASES "BRING U DOWN" + ANNOUNCES 'THE SPACE BETWEEN' NORTH AMERICAN TOUR
The melodic pop track finds Christian at odds with his partner, who carries a much more optimistic disposition than his own. Grappling with his mental health and negative thoughts, he tries to avoid projecting those feelings onto his loved one, not wanting to bring them down with him.
KAYORALPHA cuts deep across his latest drill heater "Origins"
Elevated by eerie violin samples and chest-rattling 808s, the 21-year-old talent effortlessly bends words to his will while displaying an unapologetic flair moving with purpose and persistence. He delivers a menacing sound wave riddled with deeper messages, flexing his story-telling lyricism shining front and centre. Paired with a sharp set of visuals that embody the gritty sounds of South East London, Kay develops an unwavering confidence as battles the pains of his past and the bold temptations that take control. Speaking to his younger self with an inspired presence, ultimately fuelling the rebirth of his razor blade artistry and crystal-clear hunger for success as a bonafide talent on the rise.
PURPLE DISCO MACHINE RELEASES "BAD COMPANY" – SINGLE + VIDEO OUT NOW
The present-day king of disco, Purple Disco Machine pays homage to his roots with "Bad Company," out now via Sony Music Germany/RCA Records. Following the release of "Substitution," his internationally acclaimed collaboration with Kungs, which is currently leading the radio airwaves across Europe, Purple Disco Machine is yet again providing the sonic landscape for fans to flourish and become immersed in the Dresden producer's funk-fueled world.