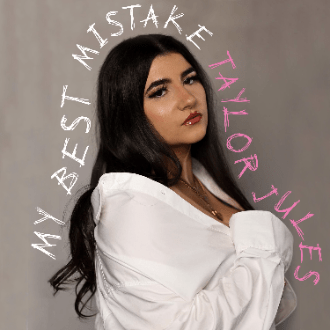 You can tell just by the potency of her poetic emissions in the new single "My Best Mistake" that singer/songwriter Taylor Jules isn't messing around in this latest release to bear her name in the byline. She's assertive, venomous even, and every word she utters is meant to hit us like a ton of bricks, all at once. "My Best Mistake" introduces vulnerability and reticence in equal measure, but despite its conflicting linguistic themes, it feels like one of the more fluid performances this player has ever given – which, on its own, is certainly not a small statement to make.
There's nothing subtle about Jules' delivery in this piece; she's putting herself out there with a lot of panache and demanding a reaction out of the audience, not through the use of props but instead, her voice and the virtuosity it's presented with. There's a lot to be said about an artist who doesn't need the kind of embellishment a lot of her contemporaries would require when recording something as bombastic as this is, starting with the fact that she's got a natural vocal talent that a lot of singers would do anything to possess themselves.
The drum parts are a little loud in comparison to what I might have gone with had I been the one in the producer's chair for these recording sessions, but I suppose if there's anyone who can handle the pressure of a big percussive component in this piece, it's Taylor Jules. She doesn't just embrace the charge of the drums; she runs head-first into the groove and makes it a part of her verse, adding a pulsating physicality to what already felt like a very intimate execution on her part. It's technical, but to me, I'd expect nothing else from a player of her professional stature.
I will say that I pick up on a much stronger rock influence in "My Best Mistake" than I have in any of the work this singer/songwriter's direct peer group has recorded up until 2023, but it's not a total departure from the centralized pop narrative one might be expecting in this setting. Honestly, this is an artist who can credibly experiment with aesthetics that span the pop spectrum, so for her to be pushing the parameters of her sound comes as no surprise to me.
Heartfelt and harmonious with her backing band but making it very clear that she has the muscle to do whatever she wants at the microphone in a performance like this one, Taylor Jules is giving us plenty of reasons to include her on the must-watch lists this May, and I can say now that "My Best Mistake" exceeds the expectations I had for her new single and then some.
There hasn't been nearly as much talk nor buzz surrounding this subset of the pop scene in America and abroad as there should be in the last couple of years, but with the underground success that "My Best Mistake" has the potential to collect this spring, that could change much sooner than later.
Sadie Schwartz