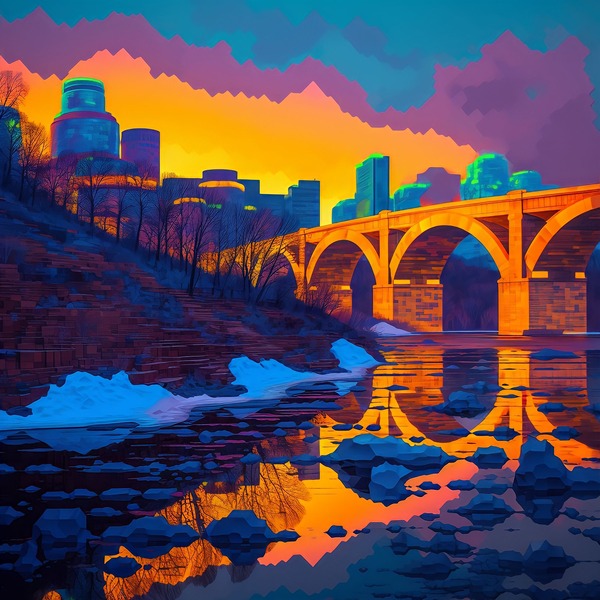 It's not often you find a band that's been playing together since middle school. However, Sun Wave Mountain Cave is just such an act, together now for fifteen years now. They became Sun Wave Mountain Cave, though, only after adding Andy Brace as a guitarist/vocalist, and Familiar to Me is a tight, five song EP.
All this time together has given the group plenty of time to perfect their harmony vocals together. A fine example of this fantastic singing especially comes through on "Streetlights/Ginkgoes," where they are just sound so lovely singing with each other. The chiming guitars, however, just make the track all that much better. This Minnesota act sure sounds a lot like Fleet Foxes, in all the best ways. Instead of just creating a song that gets from point A to point B just as quickly as possible, this seven-minute track takes its own sweet time (emphasis on the sweet part) to wind in and out of diverse melodic variations. It's epic in length, but also has a powerfully epic feel, overall.
By the way, this band likes to create extra long songs, While the first two pieces are just shy of four-minutes long, the remaining three last over four minutes – with "Streetlights/Ginkgoes" being the longest. With "Bones," and its delightful guitar interplay, it's tough to decide which element is better: The singing and harmonies, or the guitar work. Heck, though, why make yourself choose? Instead, enjoy all the excellent sonic elements incorporated because it all adds up to one fantastic whole.
Interestingly, the group says "Bones" was – with its "percussive catharsis" — inspired by the music of The Replacements and Husker Du. After all, they're all from Minnesota, and this region has a rich alternative rock tradition. With that said, though, it's difficult to draw a line directly from this one track back to either The Replacements or Husker Du, just because those two bands were just so rough, rowdy and noisy.
The project closes with one titled "Things Fall Apart," which is a straightforward piano ballad. It's both pretty and sad. And even though it does include a melodic electric guitar solo, this is nevertheless quite the piano-y track. It's sung softly and vulnerably, and miles away from ramshackle rock and roll. Then again, there is nothing on these five tracks that might be described as ramshackle. This is a most precise outfit. Every note has its place and is delicately secured in its place throughout.
Another positive character trait is just how sincere and heartfelt Sun Wave Mountain Caves are. Maybe a little melancholy at times, but never at all depressing. In some cases, such as on "25," with its perfectly placed fingerpicked guitar part, Sun Wave Mountain Cave brings joy to the listener's ears. It's more folky than rocking, and is a nice, jangly way to kick off the release.
ONLINE:
https://www.sunwavemtncave.com
https://twitter.com/sunwavemtncave
https://www.instagram.com/sunwavemountaincave
So, what makes Minnesota such great soil to grow organic, homegrown music? Nobody has yet been able to put their finger on it. Yet, the same region that gave us the aforementioned Husker Du and The Replacements, also gave us Prince. Maybe it's in the water. Whatever the case, Sun Wave Mountain Cave is yet another really fine act to call Minnesota home.
-Dan MacIntosh