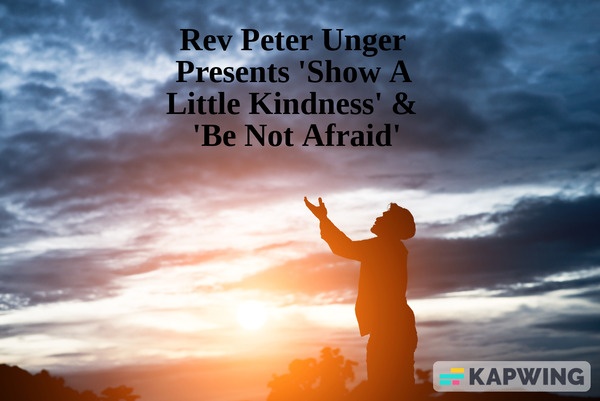 Rev Peter Unger offers a soothing voice celebrating compassion and understanding on "Show A Little Kindness." With the guitar and the bass, he keeps the song focused on those so often overlooked. Lyrically precise, he lets these narratives feel natural, allowing them the right amount of power. He brings a lot into the equation throughout the work, ensuring the song has a meditative quality. He encourages the listener to become the best version of themselves.
Opening things up with a nice cycle, the song's first character shows love for his surroundings. People experiencing homelessness are generally not thought of in the world and are usually ignored. However, this sense of grace and gratitude runs through the message by acknowledging people experiencing homelessness, speaking to them, and not simply looking past them. Going deeper into the thick of things are those who work the night shift in service jobs. One of the most prevalent jobs on Earth, many service jobs blend into the background. Little is paid to those who toil away in the midnight hours and beyond, trying to service those select few at such an uncanny hour. The acoustic guitar is a good choice, and it is tuned appropriately nicely, buttressing the sheer verve of his vocalizations.
Tidy, Rev Peter Unger provides shelter from the world's hardness, trying to present a better way to be on "Show A Little Kindness."
'Show A Little Kindness'
https://www.reverbnation.com/revpeterunger/song/33960549-show-a-little-kindness
Rev Peter Unger explores the concept of faith on the quiet confidence of "Be Not Afraid." The bass feels lighter than air, virtually gliding through with purpose. Verses go for the direct. Word choice allows for the message to cut to the heart. The guitars sparkle with the chords neatly weaving this tapestry of tones. Quite a joyous work, a journey comes into view, giving it this right element of power that recalls the natural world's vivid beauty.
A calm presence starts the song off on the right foot. The many different aspects of the guitar work give it this ecosystem-like quality. His voice has a nice, soft reassurance behind it as it unspools into the infinite. With cleverly thought-out themes, he lets the piece take its time. Pace is the trick as the song ambles through unhurried. Verses play off each other, resulting in this overwhelming sense of purpose. Everything about it goes for nimbleness, as the guitars ring with inherent honesty. By allowing the piece lots of space, it has this graciousness that feels doubly refreshing. Aspects of his faith come up as he invites the listener to join him in wonder. Themes within the song reflect upon each other – the crystal clarity of his verses sync up effortlessly with the power of his straightforward yet clear-eyed insight.
Be Not Afraid" has a strength, revealing Rev Peter Unger's deep understanding of spirituality.
'Be Not Afraid'
https://www.reverbnation.com/revpeterunger/song/33960245-be-not-afraid