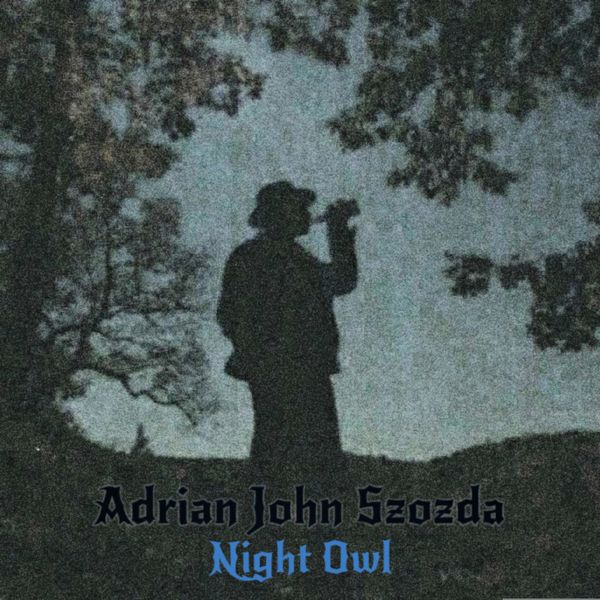 Adrian John Szozda is a genuine singer/songwriter and multi-instrumentalist from Toledo, Ohio and his latest release is titled 'Night Owl'. With elements of folk, blues and rock along with a true indie sound, 'Night Owl' will wake up all of your senses. Adrian John Szozda has a very original style vocally and musically, which is refreshing to hear.
Adrian juggles many roles and instruments on the new record and they are: vocals, acoustic guitar, mandolin, resonator ukulele, resonator guitar, banjo and cajon with brushes. Adrian John Szozda didn't come alone on 'Night Owl' as the album features five other talented musicians and they are: Jonathan Rutte on bass & drums, Steve Knurek on bass, Tom Goodwin on violin & ukulele, Aaron Rutter on violin and Patrick Lewandowski on lead guitar. Together, these artists have created vibrant music that will keep you up and going all day long on 'Night Owl'.
The album kicks off with a playful number called "Mischievous Song" and Adrian's smooth style will not get you in trouble. "Mischievous Song" peaks your interests all the way through and Adrian Szozda's unique vocal delivery will keep you involved from start to finish. Next, we hear "Father Forgive Me" where Adrian's raspy voice truly adds a special sentiment toward the theme of forgiveness. Track three, "Rum Rum", offers a down-home, woodsy sound and the lighthearted tone will make you smile inside and out. All there is left to say is "Yum Yum", "Rum Rum", drink it all up! The following number, "Hard People", provides a fun-filled atmosphere that you can jive and dance along to. Shining brightness is being portrayed musically & instrumentally on "Moonlite". Adrian John Szozda will make "Everyone Smile" on the next song with such a positive message that we could ALL use from time to time. So, give it a try and "Everybody Smile" because God knows this world could use some joyous moments. On track seven, "Angeline", I have to say that this composition is wonderfully arranged and supplies superb orchestration. Inquiring ears want to know just who this "Angeline" character is as Adrian is able to max out your curiosity level. Moving along, I am simply loving the direction the next song takes on "I remember" where the appeal factor is sky high. Track nine, "Learning To Waltz", has all the right moves along with stellar instrumentation that hooks you in immediately. Adrian Szozda delivers a strong finish on "Darlin Come Home To Me" that offers a very inviting melody and rock-solid performance.
'Night Owl' is the third album for Adrian John Szozda and what a bang-up job he did on this project! Adrian is also a member of three other bands and they are: The Blue Hook, The Americanos and Octoberfield Report plus he runs Rockershop Records. Adrian John Szozda is getting quite a buzz on over 50 college and non-commercial radio stations across North America and I feel Adrian is just getting warmed up. Don't snooze on 'Night Owl' because this album is full of energy and will have your ears wide open from beginning to end!
https://www.adrianjohnszozda.com
https://www.facebook.com/adrian.szozda/
https://www.instagram.com/adrianjohnszozdamusic/
https://twitter.com/AdrianSzozda
https://www.youtube.com/channel/UC4OdDRgeyR2G9KZf7dQwCHg
https://open.spotify.com/album/0XnVW1mFIuppaP11ldPkR9?si=_G0TfQNNSMmK05w5RGNrvg