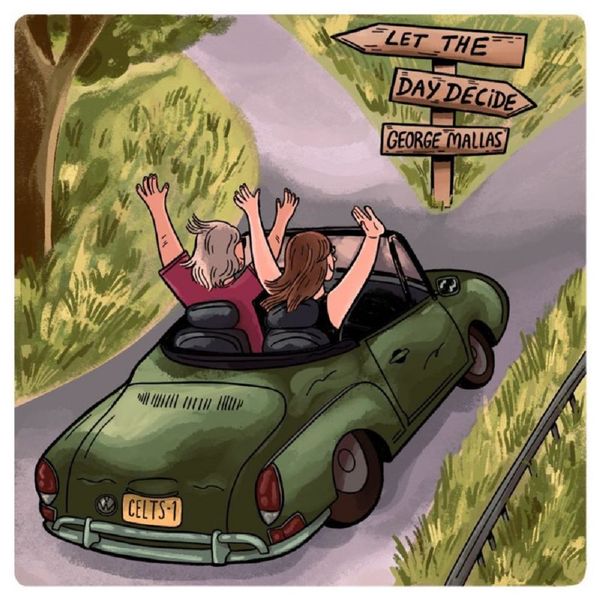 George Mallas' 2015 debut Small Reminders didn't represent a beginning for the North Salem, NY-based songwriter but, instead, a culmination. He's written songs since his teenage years and emerging, at long last, with a full-length album was the realization of a lifelong dream. It has unleashed further creativity. He followed Small Reminders with 2018's unscathed, a collaboration with lyricist Melanie Berti, that built further momentum for the songwriter. His new release Let the Day Decide features ten songs that are among the best of Mallas' career thus far and represent a quantum step forward from its admittedly fine predecessors.
FACEBOOK: https://www.facebook.com/mallasmusic
"Shine" is an effervescent up-tempo pop-rocker that grabs further emphasis by adding horns into the mix.  His voice may be a little stiffer than some like with this sort of material. It's impossible, however, to deny the warm welcome in Mallas' voice and his ability to convey emotion. The lyrics are literate while clearly tailored to its musical setting; there's no extravagance. He segues into a piano ballad with the album's second track, but the drums supply a crucial counterpoint. Electric guitar has an important role to play as well, and the climactic solo raises the dramatic stakes.
He stays in ballad territory with the album's third song. "History", however, goes in a different direction and serves up a grand duet for listeners. The female singer joining Mallas on the song doesn't enter into the piece until we've traveled some distance, but her impact is considerable. Her approach has an earthier feel without ever striking too sharp a contrast with Mallas' voice. "Go and Behold" is reminiscent of Elton John's seminal 1970s work without sounding imitative. Piano is once again a central instrument and the interplay between the music arrangement and vocal melody creates a surprising and satisfying tension.
"For Love" dispenses with a full band arrangement. Mallas goes instead for a solo piece featuring his piano and voice alone. Some listeners will think it might be better a little shorter though that's a minor quibble. His vocal talents and the song lyrics are enough to sustain the listener's attention and you can't help but come away a bit bedazzled by his capacity for melody. His fidelity to the singer/songwriter aesthetic is apparent from beginning to end and never wearisome.
https://open.spotify.com/album/6w0edaW9s8tJEMLeOCileR
"Don't Walk Away (Dragon Song)" has another beguiling piano melody supported by intermittent mandolin. It's a perhaps unexpected but, nevertheless, successful pairing. He often develops his vocal melodies with methodical deliberateness you seldom hear from others; it is a trait bringing added flavor to his songs. Introspection continues dominating the songwriting mood with "My Beliefs My Prayer". He returns again to the piano, but this time marries it with woodwinds with an appropriately pensive result.
Some people, frankly, do not like upbeat music or, at least, in small doses. It's a disservice, however, to label Mallas' music as doe-eyed and lightweight. There's a wide breadth of maturity spanning the album's ten tracks and the writing reaches for places typical pop songs seldom dare to travel. George Mallas' Let the Day Decide is a layered and engaging collection.