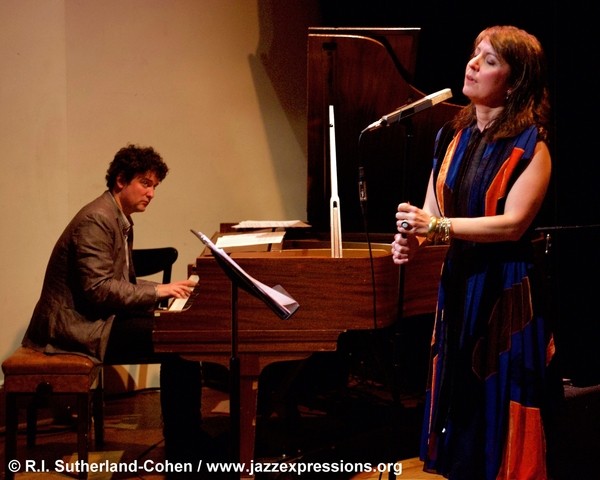 Both inspired by the Beat Generation poets they create Pieces of a Song, a repertoire of rageous yet ecstatic original pieces in French and in English infused with the tender and subversive writings of the idiosyncratic Beat Generation poetess Diane di Prima.
To create a work that we can all relate to, accessible yet provocative, they intertwine their creative visions, where poetry meets hip-hop, spoken-word meets contemporary improvisation.
With this repertoire, they aim to explore the identity crisis brought out of poverty, of rebellion, of being a woman, of standing on the outside of the culture, of making bold choices in an always more constraining world.
Pieces of a Song has been made possible through the Jazz & New Music, a program of FACE Foundation, in partnership with the Cultural Services of the French Embassy in the United States.
NYC LINE UP
– Soapbox Gallery, 636 Dean St, Brooklyn, NY 11238 // May 25 // 8pm // 20$
Abby London-Crawford presents: A tribute to Diane di Prima.
An interdisciplinary evening with poetry reading by Phyllis Capello and the Ferlinghetti girls interspersed with Chris McCarthy and Clotilde's duo repertoire Pieces of a song.
– Rockwood Music Hall,196 Allen St, New York, NY 10002 // May 29 // 7pm // $10
They are also playing in Boston, Chicago, and St. Louis this spring!
Line up: Clotilde (vocal, flute) // Chris McCarthy (piano, prophet)
Little snapshot on Youtube :
Additional material and links :
Clotilde
Clotilde is an international interdisciplinary French artist, artistic director, vocalist-flutist and filmmaker. Her last album A woman's journey won 16 awards including 4 awards as "Best album". Her second album In Extremis was named one the top 5 albums by "NPR Annual Jazz Critics Poll" and by The Sunday Times. As a bandleader she performs at renowned jazz venues and prestigious festivals around the world. Her recent creation XXY [ɛks/ɛks/wʌɪ], a multidisciplinary music and motion art movie has been screened in 30 international festivals and has received 5 awards and nominations.
"Clotide explores a rainbow of colors and vocal textures that can both surprise the listener and enhance the songs she sings. She paints the words with alto richness one moment and then, with childlike innocence, in a second soprano voice." Dee Dee McNeil – Musical Memoirs
"Clotilde has a voice akin to a mix of Betty Carter and Nina Simone." George Harris – Jazz Weekly
"The impressive musicality of Clotilde Rullaud's voice immerses us into a universe that goes from tenderness to screams." Lionel Eskenazi – Jazz Magazine (France)
"Clotilde's voice is silky and strong, heart warming or vindictive, when she sings revolution or despair." Isabelle Motrot – Causette (France)
https://www.youtube.com/c/clotilderullaud
Chris McCarthy
HotHouseJazzMagazine described Chris McCarthy as "one of the most imaginative and impressive voices on the New York jazz scene." Since arriving in New York, he has collaborated with established artists such as Jason Palmer and Lion Babe and with rising one like Sasha Berliner. McCarthy graduated with honours from the New England Conservatory in 2016. In 2017 he released his debut album Sonder, described by AllAboutJazz as "the promising and first release of many for this broad-minded and adventurous keyboardist."
"Pianist and composer Chris McCarthy is proving to be one of the most imaginative and impressive forces on the New York jazz scene." Hot House Jazz Magazine.
"I believe he has a very bright future on the jazz piano scene" Fred Hersch
"Chris McCarthy is one of those players everyone wants to have in their band." Jerry Bergonzi
https://chrismccarthymusic.bandcamp.com
https://www.youtube.com/c/ChrisMcCarthymusic
When did you first know you wanted to become a musical artist? What was the first song you ever wrote?
In high schools with the first concerts
Chris : Sock in the motor. It was an exercise at the music school
Clotilde : He was, after being heart broken in High school
Who are some of your top 5 musical influences?
Laurie Anderson, Meredith Monk, Bartok, Satie, Chick Corea
What's in your playlist this week?
Chris : Rosalia, Bud Powell
Clotilde : Klaus Schultze, Meredith Monk, Dick Annegarn
What do you like most about playing live?
Having an audience and the fact that every show is different and unexpected.
Is there a song on your latest CD release here that stands out as your personal favorite, and why?
Chris : Ready, steady – The horn solo on it sounds really amazing
Clo : Hannah – love the musicians playing on that track
What's the best concert you've been to?
Too hard to answer, cause concerts at 13 are not the same as at 25. ;)
The best concert is yet to come!
If you could meet, play a gig, co-write a song, have dinner, have a drink with any band or artist (dead or alive) who would it be?
Chris : Prince because we have the same birth day and my music doesn't sound anything like him but I like his approach
Clotilde : Marina Abramovitch cause I'm totally fond of her artistic personality
What are your goals for the future?
More creations, more new repertoire and more album releases