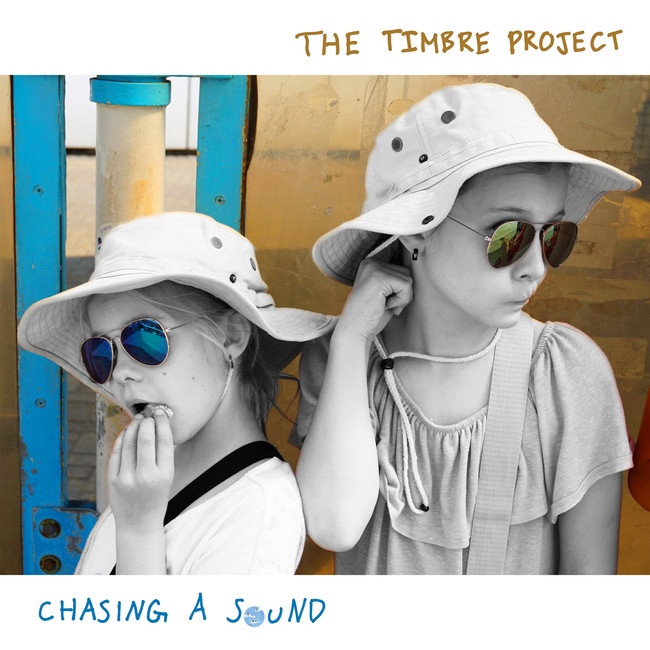 'Chasing A Sound' is the perfect title for this new album because from an audio standpoint, The Timbre Project is impeccable. This new record by The Timbre Project is the fourth release and what a dynamite one it is! The Timbre Project is Jaime d'Almeida and he is joined by frequent collaborator Jason DeWaard. The impressive fact here is that Jaime d'Almeida and Jason DeWaard engineered, recorded, produced and mixed the entire album together but done in two different locations. DeWaard plays bass while d'Almeida and DeWaard share duties on all other instruments including guitars, keys, percussion and drums. It's also worth mentioning that Jaime d'Almeida's two daughters named Mia and Lily are featured on the new record on backing and harmony vocals & percussion. Mia and Lily are also on the cover of 'Chasing A Sound', so family plays a big part in finding the right sound for The Timbre Project.
The album starts out with a terrific song called "Bitter Pill" that offers a cool, poppin', rockin' hook. "Bitter Pill" is an incredibly catchy tune with good energy and a fan-friendly tone that is all geared up for major radio play. Next is "She Kept Me Up" that provides a dramatic, theatrical intro and just a wonderful composition that is a real treat to take in. "She Kept Me Up" is musically pleasing and just simply an amazing production. Track three, "Hold Me Wait", contains super sonic melodies and a star-studded performance from The Timbre Project. There is an enormous amount of heart & soul on "Hold Me Wait" that the listener will truly appreciate. Everything is jivin' from a musical standpoint on "Master Master" where The Timbre project is on a roll and on point. Track five, "Thorns", will stick to you for days with its rich texture and major appeal. On the following number, "Anchor Love" the listener will receive such a pleasant vibe overall that will warm you up inside and out. On track seven, "Fade", you will get hit head on by The Terrific Timbre Project groove. Next, "You Always" will be hooked in and amped up for more from The Timbre Project. On track nine, "So Much For Cooler Things", the slowed-down tempo works like a charm and pulls you in like there is no tomorrow. It all comes together nicely at the end with "You Don't Know That" where one will hear a powerful yet tender touch.
I am highly impressed with The Timbre Project and their latest release because I feel everything is gelling perfectly on this record. If Jaime d'Almeida and Jason DeWaard were really 'Chasing A Sound', then the search is over because The Timbre Project nailed it here! All 10 songs are masterfully crafted not to mention instrumentally and lyrically superb. The Timbre Project's 'Chasing A Sound' is a compelling album that should receive major recognition for its material and fine production of audio art.
By Jimmy Rae